Ex councillor aims to raise £100,000 for charity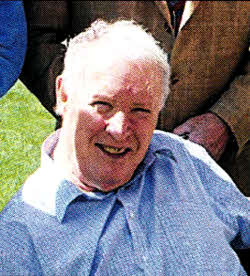 Ned Falloon
FORMER Lisburn Councillor Ned Falloon has set himself the massive task of raising £100,000 for charity.
Mr Falloon decided to raise funds for three very worthwhile causes - the Royal British Legion, SSAFA Forces Help and Parkinson's UK - and has been working tirelessly to organise a nationwide raffle, with a grand prize of a brand new car.
The '3H Grand Draw' is being launched in style next month with a parade through Lisburn city centre, which will feature the massed pipes and drums from a host of well known bands from the Royal Scottish Pipe Band Association (RSPBA).
The parade will take place on Saturday March 10, leaving the Civic Centre at 11am and marching through the city centre.
Over 100 bandsmen and women are expected to take part in the parade, which will pause at the war memorial in Lisburn for the laying of a wreath.
The draw will be made at the Civic Centre in Lisburn on Saturday June 30 at 11.30am. As well as the brand new car, a host of other valuable prizes will also be up for grabs.
Tickets for the '3H Grand Draw' are priced £5 each and are available locally from the Royal British Legion in Sackville Street, as well as from other branches throughout Northern Ireland. The draw committee would like to thank all those who have contributed prizes, bought tickets or helped in anyway.
"We have made a good start towards our target," said Mr Falloon. "Please help us achieve it."
Ulster Star
24/02/2012