Urgent appeal to help neglected Horses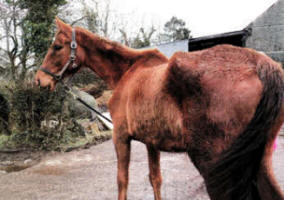 Bones protruding from the horse discovered on a farm last month.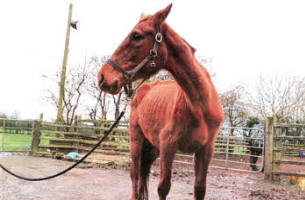 One of the horses which was taken off a farm recently and now on a refeeding programme.
SHOCKING pictures of two emaciated horses that were rescued from a farm in Ballinderry last month have been released by the charity Crosskeenan Lane Animal Sanctuary.
The horses were so emaciated that they both registered zero on the equine body condition score scale and it is still not known if they will make a full recovery as one of the horses was so weak that she had difficulty walking.
The horses, a chestnut mare (approximately 17hh), and a bay mare (approximately 16 ) were found suffering from worms, rain scald and mud fever when they were rescued from a farm on February 17.
Bodies of other animals including two goats, calves were all discovered all in poor condition.
Lyn Friel from the sanctuary said both horses are on a re-feeding programme at new stables devised to bring them back to health.
A vet said the prognosis is still uncertain as the damage to organs and muscles can take weeks, months or longer to become apparent. However, the horses are still receiving constant intensive nursing and ongoing assessment.
Lyn said: "We are the only horse welfare and educational charity based in Northern Ireland but receive no government assistance or funding.
"We are being contacted on average six times daily by the public, councils and PSNI asking us to take in abandoned, neglected and unwanted horses of all ages, breeds and abilities. There is nowhere for these horses to go but we believe that every horse deserves a chance.
"We are at a loss as to know what to do, without euthanasia being the only answer. This is contrary to everything we stand for and we are hoping that someone will step in to support us and avert what would be a tragedy for the horse welfare situation in Northern Ireland."
She said that when the horses were found they were inseparable and remain so.
"We often see this bond between our rescued horses, maybe because they have been through so much together," she said. "They have a trust and loyalty to each other that is humbling to witness.
"We see this type of situation on a worryingly regular basis. The welfare calls to the charity have increased by a staggering 300 per cent over the last couple of years,"
The charity says the cost of caring for the many abused and abandoned horses that need their care has escalated to such an extent that they fear they have almost reached a point where they will not be in a financial position to help. Their average monthly costs are currently around £12,000.
Crosskennan are currently appealing for financial help, permanent and temporary foster -homes or fundraising groups that could work in conjunction with the charity's volunteers or on their behalf.
If you can help in any way you are asked to contact Crosskennan on 028 9446 5384 or email crosskennan@hotmail.co.uk
Ulster Star
09/03/2012