YOUNG ROAD VICTIM `A TRUE FRIEND'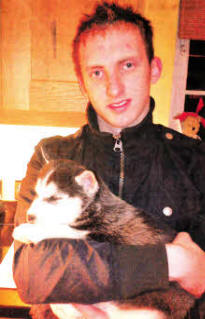 Neil Graham who died following a tragic accident.
Tributes paid to motorcyclist who died after tragic road accident
TRIBUTES have been paid to the young motorcyclist who died after an accident in Lisburn on Friday night.
24-year-old Neil Graham, from the Blackskull Road near Dromore, was in a collision with a car at Woodland Park off the Hillsborough Road at around 6.30pm.
The 17-year-old female driver and her 11-year-old male passenger in the car were treated for minor injuries and shock following the accident.
Mr Graham was buried from his home with a funeral service held at Maze Presbyterian Church.
Paying tribute to Neil, a former pupil of Legacurry Primary and Dromore High School, the Rev. William Henry described him as "the guy who was the life and soul of the party and just loved company".
He said: We want to remember Neil as someone who loved life and tried to make the most of it.
Young road victim loved life'
"The love that Neil had for cars and mechanical things started very young. His mum and dad have reminded me that he wasn't the quickest to start walking but as soon as he decided it was time to get started there was no holding him back.
'As soon as he had got the hang of walking he was into a battery powered quad and Alan had a hard job ensuring that it was charged up sufficiently for Neil's use.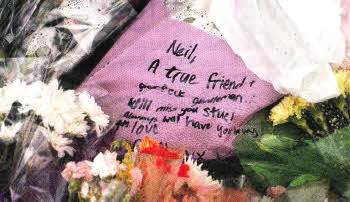 Flowers left at Woodland Park where Neil Graham, 24, was killed when his motorcycle was in collision with a car.
"He was just six when he had his first petrol quad and his competitive nature was fully up and running. Neil spent many years right up to age 17 enjoying kart racing and was an Irish champion and raced for Ireland in championships in England."
The Rev. Henry said that Neil, who worked for his fathers engineering firm, was a young man who enjoyed his friends' company and was a true and loyal friend to them.
"In work he was totally committed and had progressed excellently all the way through his apprenticeship to the place where he had learned all aspects of the business where his dad was confident in knowing he could go on holiday and everything would be safe in his hands. He always had a friendly attitude toward customers" the minister said.
Lagan Valley MLA Basil McCrea said the accident is a tragedy for the Graham family and the local community.
"A road death like this is always a shock but it's particularly sad when someone with their whole life ahead of them dies in this way." Mr McCrea added: "I want to offer my condolences to the Graham family following this tragedy."
Several floral tributes have been left at the scene of the accident in a quiet residential area.
Lagan Valley MLA Trevor Lunn also expressed his shock at Mr Grahams death. Mr Lunn said: "I am shocked that another life has been lost on our roads. I would like to pass on my condolences to his family. "They are in my thoughts at this most difficult time for them."
Cllr Andrew Ewing said: "I am deeply saddened by the news and offer my deep condolences to the family."
Police have appealed for anyone who saw Friday night's road accident in Lisburn to contact them with information.
Ulster Star
18/05/2011