Ballinderry's new primary school is officially opened
by JENNY MONROE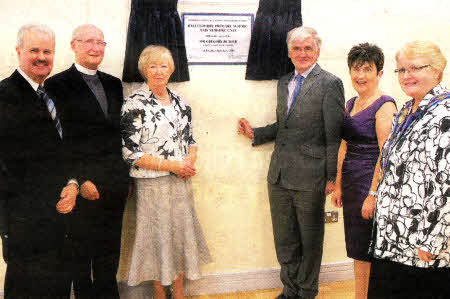 Councillor Thomas Beckett, Canon Ernest Harris, Mrs Mary McStravick chair Board of Governers, Mr Gregory Butler Chief Executive South Eastern Education and Library Board, School Principal Lorraine Magowan and Deputy Mayor Margaret Tolerton at the opening of Ballinderry Primary School new Building. US2612-115A0
THE official opening of Ballinderry Primary School and Nursery Unit took place last week, just before the end of term.
The new school building was completed in October 2009 but was officially opened on Tuesday with Mr Gregory Butler, Chief Executive SEELB performing the opening ceremony.
The new school, which cost £2.68 million, was built to replace the existing primary school built in 1976 and extended in 1998. The existing school and site was no longer suitable to meet the requirements of the new curriculum.
Principal Lorraine Magowan welcomed the official opening. She commented: "We are delighted with our new school, a place where the children of this growing community will be educated for years to come. The heart of the school is essentially the same as it was in our old building but now the quality of teaching and learning is enhanced by the beautiful facilities."
A new green field site was obtained by the SEELB located on the Crumlin Road to the northern side of the village. The new school consists of nine classrooms with integrated toilets, cloakrooms resource areas, a large Assembly hall, associated offices and ancillary accommodation.
A separate nursery unit is located opposite the primary school and is designed and constructed to match the primary school. The nursery unit classroom opens out onto a covered play area and extends out to an enclosed external play and garden space. Located at the rear of the site is a grass play area and a double MUGA Pitch with flood lights which is used by the school and local community groups.
Mrs Mary McStravick Chair of the Board of Governors said: "The Board of Governors are delighted that after 20 challenging years the dream of a new school with excellent community facilities has become a reality. It is wonderful that the whole community are making such good use of the facilities on a regular basis."
Ulster Star
06/07/2012