New Life Cycle highlights `the best gift you can give'
by STACEY HEANEY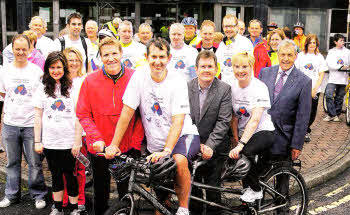 Olympic hockey gold medallist Jimmy Kirkwood, Health Minister Edwin Poots, Jeffrey Donaldson MP, world champion water skier Janet Gray and ClIr Uel Mackin pictured at Lagan Valley Hospital with cyclists taking part in a cycle ride to raise funds for NI Transplant Forum. Cyclists taking part started at Royal Victoria Hospital on a six day tour which visited all the major hospitals in Northern Ireland. US2512-509cd
THERE was a huge turnout at the Lagan Valley hospital on Saturday when the New Life Cycle 2012 rode into Lisburn.
The cycle, which raises awareness of organ donation, began its six day journey at the Royal Belfast Hospital for Sick Children, visiting Belfast City Hospital on the way, before arriving in Lisburn.
Amongst those taking part were Health Minister Edwin Poots, who joined World Disabled Water Ski Champion Janet Gray on a tandem, whilst also in attendance were MP Jeffrey Donaldson, the Mayor, Alderman William Leathem, World Champion Boxer Brian Magee, as well as Olympic Gold Medallist Jimmy Kirkwood.
The New Life Cycle was spearheaded locally by Lisburn woman Susan Kee, who knows all too well the importance of organ donation. Speaking at the event Susan said: "The reason we are all here today is to promote awareness of the importance of organ donation. William Johnston is the organiser of this event. William highlights why we have to be on the organ donor register. He has been on dialysis now for 16 long years waiting for a kidney transplant."
Susan spoke of her daughter Hannah's experience, after the teenager developed kidney failure, eventually receiving a kidney from her father Gardiner.
"We don't have to abuse our bodies to need a transplant. It can happen to anyone at any time," Susan commented. "It was the week before Christmas 2008. Hannah hadn't been well with a cold that had moved into hex chest. On Monday December 22 I had taken her to our GP, who referred her here to the Lagan Valley hospital for a chest X-ray.
"The consultant in charge that day was Dr. Paddy McClure. He realised that Hannah was very ill. I didn't realise at the time but Dr. McClure knew that Hannah needed to be admitted immediately into an intensive care unit in another hospital.
"She was only 15 years old. She had never been to a hospital in her life. Little did I know then that time would stand still for us and that the 10 minutes wait would become a wait fox more than 16 months.
'Transplantation is a modern day miracle. Through the expertise of surgeons and the incredible unselfish act of human kind donating their organs, quality of life can be restored.
"Organ donation is something we don't like to talk about. But we must talk about it and increase awareness of it.
As Hannah and her father know it is the best gift you can ever give and it is the best gift you can ever receive."
The Mayor, Councillor William Leathem said: "Each deceased organ donor can save the lives of nine others through the transplantation of vital organs such as heart, lungs, liver and kidneys; and improve the quality of life of many more. This is a phenomenal contribution to humanity and one that I hope everyone will commit to with the support of their loved ones and sign the NHS Organ Donor Register.
"Lagan Valley Hospital endorses the 'Gift for Life campaign and I would encourage all communities in Lisburn to support it in its good work."
Health Minister Edwin Poots said: "It is truly inspiring to see so many people who have turned out here today to help raise public awareness for organ donation and to help the Northern Ireland Transplant Forum."
Before getting on his bike Mr Poots added: 'There is no greater gift than the gift of life and organ donation and transplantation has always been a top priority for my Department. There could be no more fitting testimony to the benefits of such procedures, as the presence of the many participants here today, some of whom are organ transplant recipients. I want to encourage people to sign up to the organ donor register and to discuss it with their families."
The event ended with a balloon release in memory of those waiting for a transplant, those who never made it to transplant and to the memory of loved ones who donated their organs.
You can join the NHS Organ Donation Register by: filling in a form online at www.organdonation.nhs.uk or www.walloflife.org.uk, calling the NHS Donor Line on 0300 123 23 23 or texting SAVE to 84118.
stacey.heaney@ulsterstar.co.uk
Ulster Star
22/06/2012