Family get on their bikes to encourage organ donation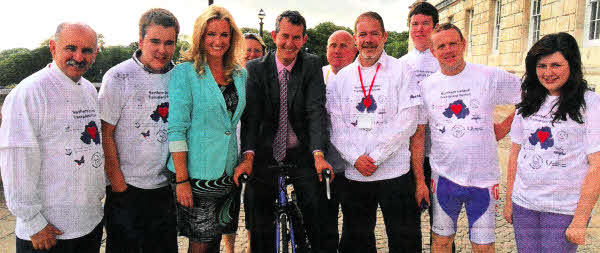 At the launch of New Lifecycle at Stormont recently were from left to right: Dr Eddie Rooney, Chief Executive of the Public Health Agency, Mark Dobson, kidney recipient, Jo-Anne Dobson MLA, Susan Kee, mother of kidney recipient, Mr Edwin Poots, Health Minister, Mr William Johnston, organiser and dialysis patient, far right Hannah Kee kidney recipient.
A LISBURN family are set to join MLAs and local sports personalities for the. Northern Ireland Transplant Forum's New Lifecycle 2012 when it arrives in the city tomorrow (Saturday).
The Lifecycle is a six day cycling event performed on consecutive days across Northern Ireland from Saturday June 16 to Thursday June 21, which will raise awareness of organ donation and raise funds for transplant patients and their families.
The local leg of the event will leave from the Royal Victoria Hospital for sick children at loam on Saturday, cycling to the Belfast City Hospital to the Lagan Valley Hospital, Lisburn.
The Northern Ireland Transplant Forum is an umbrella group of local charities whose primary aim is the promotion of organ donation to raise public awareness of its huge life-saving potential.
Mrs. Susan Kee, whose daughter Hannah is a successful kidney transplant patient, is organising the Lagan Valley hospital event.
Speaking after the launch event she said: "The build-up to the Lifecycle has been incredibly intense. Everyone is looking forward so much to taking part, to raise awareness of organ donation and to help raise much needed funds to help transplanted patients and their families. Our aim is ultimately to encourage a greater number of people to sign the organ donor register.
I was delighted that the Health Minister Edwin Poots MIA is not only launching the event, but is cycling on a tandem with Dr. Janet Gray MBE, the world disabled water ski champion. Also taking part is Mr Jimmy Kirkwood, Gold Olympic hockey winner, Brian Magee, World Boxing Champion, a patron of the Transplant Games last year, and transplanted patients cycling to celebrate their gift of life. They will be accompanied by their family members, relatives, friends, medical staff or any other cyclists who would like to support and endorse organ donation."
Susan's daughter Hannah was just 15 when she suddenly took ill in December 2008. Hannah, who was an active and healthy girl, was diagnosed with Chrome Kidney Failure and was informed that she would remain on dialysis for the rest of her life. At this time she was too ill to be placed on the transplant list.
Her health was extremely poor; she could not attend school, had no energy, was constantly sick, could not socialise with her friends. Throughout all this she just wanted to be 'normal'.
Susan and her husband went forward to see if one of their kidneys would be suitable to be given to Hannah. Thankfully, her father Gardiner was a match and on April 14 2010, Hannah received a successful kidney transplant from her father which saved her life. Both are taking part in the cycle on June 16. Her health is now excellent and she leads a normal life again.
Susan added: "I encourage the people of Lisburn to come out and support this wonderful event. The cyclists will be arriving at the Lagan Valley Hospital from 12pm, so please cheer them on. There will be a balloon launch from LVH at 1.15pm to celebrate the new life a transplant brings and pay tribute to the human generosity of donor families who have made this possible."
Each daily route is divided into 10 mile legs and full details of the routes are available from the Northern Ireland Kidney Patients' Association website at www.nikpa.org or contact
organiser William Johnston on 028 9127 1312 or Susan Kee, local organiser 07970419442.
Stacey.heaney@ulsterstar.co.uk
Ulster Star
15/06/2012