LUXURY HOTEL GETS THE GREEN LIGHT
by JULIE-ANN SPENCE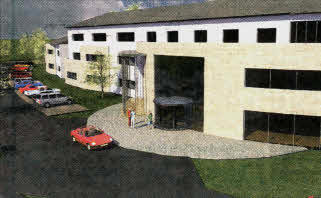 How the hotel could look.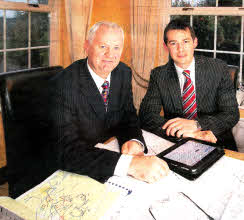 Ken Cleland, managing director of Arborhill Ltd, and his son Peter Cleland, project manager with the company, reviewing plans for a new hotel to be built at Hillsborough Road. USO412-516cd Picture: Cliff Donaldson
THE men behind plans for a luxury hotel on the Hillsborough Road in Lisburn say they will now move forward to sign up a hotelier to operate the multi-million pound development after it was granted planning approval this week.
Six years after planning permission was first sought Environment Minister Alex Attwood gave the green light for the multi-million pound development by Arborhill Ltd, which will see a 100 bedroom four star plus hotel, together with conference and leisure facilities, at the site which is across the river from the Premier Inn.
Making the announcement on Wednesday, Mr Attwood said: "This is great news for Lisburn given the economic and social benefits it will bring to the city, including up to 200 new jobs. It will enhance the range of tourist accommodation in the area and boost visitor numbers to the benefit of local shops, restaurants and businesses."
Luxury hotel ends six year wait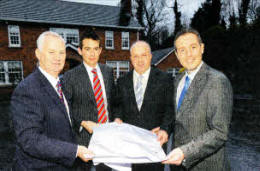 Ken Cleland, managing director of Arborhill Ltd, his son Peter Cleland, project manager with the company, Alderman James Tinsley, chair of planning at Lisburn City Council, and Paul Givan MLA, pictured outside Mr Cleland's home on the Hillsborough Road, Lisburn, which is to become the site for a new hotel. US0412-517cd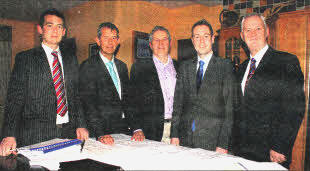 Peter Cleland (Projects Manager Arborhill Ltd), Edwin Poots (Health Minister), William Shannon (Architect), Paul Givan (MLA), Ken Cleland (Managing Director Arborhlll Ltd)
Ken Cleland, Managing Director of Arborhill Ltd, together with his son, Projects Manager Peter Cleland, have said they are delighted that approval has at last been granted and that work can now "move forward forcefully" to find a hotelier to operate the multi-million development.
Mr Cleland revealed that the £9.5 million development would be operated by an "international brand not currently operating in Northern Ireland."
"It is superb news that permission has finally been given to approve this quality hotel development," continued Mr Cleland. "The associated inward investment and employment opportunities that will be created win be a significant economic boost. Additionally the local community will greatly benefit from the improved facilities and access arrangements that will be provided as part of the scheme." In addition to the hotel facilities, the development, which sits on the boundary to the Lagan Valley Regional Park, will open up the park, particularly for wheelchair users who have struggled with access to the towpath.
"This plan opens up the Lagan Valley Regional Park in a new way and we have specifically designed the scheme with disability access to the Lagan towpath," continued Mr Cleland. "This now allows wheelchair users and families with prams an opportunity to enjoy the riverside walkway that was not previously available."
Mr Cleland made it clear that Arbohill Ltd were determined to proceed with the development as soon as was viable. "During the planning application process we have been in discussions with several international branded hotels who have been excited by the prospect of being involved in this quality gateway hotel to Lisburn City,' he concluded. "We trust that following this announcement that we can move forward in a spirit of positive expectation that commercial matters can now proceed unimpeded."
He continued: "We would like to acknowledge our professional team, William Shannon Architects, RPS Engineers, Donaldson Planning Consultancy and BS Design Consultants whose aptitude and professionalism has been essential in creating an outstanding design that is both sympathetic and appropriate for the maturely landscaped site. "We would like to thank Lisburn City Council for their invaluable support for this project which has been resolute from the concept stage and in particular I would like to thank Paul Givan MLA and Edwin Poots MLA for all their work in helping us to overcome obstacles.
"Additionally we would like to thank the local business community and local residents who came out in force to support the hotel with their thousands of support letters," he added.
Warm welcome for hotel
THE granting of planning permission For the hotel has been warmly welcomed by local politicians.
Lagan Valley MLA Edwin Poots said: "For many years I have believed that once Lisburn got its first hotel that it would be the catalyst for further hotels," said Mr Poots. "Premier Inn was built with 60 bedrooms has now been extended to 90 and we now have the proposed development of a 4 star hotel which provides a different and essential offer for the city.
"Far too many functions, events, conferences and weddings go out of Lisburn because of the absence of a quality hotel and this proposal would ensure that people have a quality offer in their own city. It also enhances the corridor that exists between Sprucefield and Lisburn and will greatly enhance the connectivity between both which could only help the city centre."
MLA Paul Givan said: "It is an opportunity to boost the local economy and drive forward the tourist potential in the City. This application has taken a long time in getting to this point and has been amended to take on board issues that were raised during the consultation process.
"Lisburn has a number of hotels in the city area but the development of this site as a luxury hotel will provide a unique selling point that is needed to attract this particular niche market to Lisburn. It will be close to the city centre benefiting local traders."
Chairman of Lisburn City Centre Management, Alderman Allan Ewart said: "In the present economic downturn this is welcome news for the construction industry. This new hotel with its health suite and function rooms will add to what is presently on offer and hopefully attract many more conferences and visitors to our city.
"The opening of further access to the Lagan towpath and a new interpretative centre for Lagan Regional Park should boost our tourism numbers. All this should increase visitor numbers to the Lisburn City Council area."
Chairman of the Planning Committee, Alderman James Tinsley, added: "There is a need for this kind of development. The recent extension to the Premier Inn proves there is a need in Lisburn.
"The site is strategically placed for the city and it is very welcome news." Councillor Pat Carney said the development would be "a wonderful boost for Lisburn."
He continued: "This hotel will draw visitors to Lisburn, will stimulate employment in the hospitality and construction sectors and will enhance the tourism potential of the city threby helping local businesses."
julieann.spence@ulsterstar.co.uk
Ulster Star
27/01/2012