New scheme to improve Lisburn City Centre launched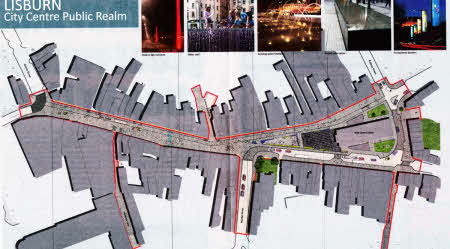 This week the Social Development Minister announced a public consultation into plans to improve Lisburn City Centre. This is how the multi-million pound scheme could affect Lisburn when it gets the final go ahead.
THIS week Social Development Minister Nelson McCausland launched a new scheme to improve the public realm in Lisburn City Centre.
The plans have been several years in the pipeline and now local people have been given the opportunity to share their views on the proposals.
The multi-million pound scheme aims to make over the main city centre streets and public spaces to high quality contemporary design standards.
Proposals include a cascading water feature at the bottom of Bow Street, improved street lighting and ground level artwork. There are also plans to develop an 'event space' outside the Lisburn Museum and Irish Linen Centre in the Sunken Gardens area.
The plans for this area include a paving design, lighting and water feature.
There are proposals to include a coach stop and disabled parking bays outside the Irish Linen Centre and Lisburn Museum, as well as a water feature and lighting columns in Bow Street.
Other areas of the city centre, including Haslem's Lane, Piper's Hill, Market Street and Graham Gardens are also included in the improvement plans.
The total cost of the Lisburn scheme is estimated at £4 million. This will be funded by contributions of up to £2,750,000 from the Department for Social Development and £1,250,000 from Lisburn Council.
The public consultation will run until Wednesday May 30 with the proposed plans being displayed in three locations - Lisburn City Library, Lagan Valley Island and at the offices of Lisburn City Centre Management in Market Square.
The Design Consultants will also be in attendance at the display in Lisburn City Library on Tuesday May 1 from loam until 2pm to give people an opportunity to discuss the plans and get answers to any queries not apparent from the information boards.
What do you think of the plans to regenerate the city centre? Do the plans go far enough? Will it help to boost the city centre trade? What would you like to see in the new plan? Share your opinions. Contact us by emailing news@ulsterstar.co.uk, tweet us @LisburnStar, share your views on Facebook at www.facebook.com/lisburnstar or contact us on 028 9267 9111.
Ulster Star
27/04/2012