Lisburn woman celebrates eight years of fundraising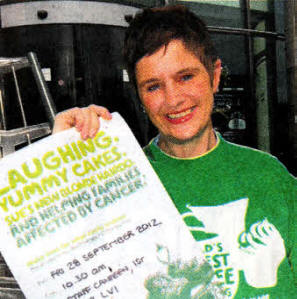 Nicola Prentice
FOR the past seven years Nicola Prentice from Lisburn has taken part in the Macmillan Cancer Support World's Biggest Coffee Morning.
"I have organised the Worlds Biggest Coffee Morning at Lisburn City Council since 2005 and next week will be my eighth year," she explained. "To date I have raised £2100.
'As I said, I run the coffee morning in my work. I invite all the staff and also the councillors and the
Mayor. In order to keep costs down to a minimum (and obviously raise more money), I ask our caterers Mount Charles to provide the food for the event - tea, coffee and scones, and then charge a minimum entry of £3 in for the privilege.
As an additional fundraiser, I also ask the-staff to make or bring buns and cakes and hold a cake sale alongside the coffee morning - this always ends up starting well before the coffee morning as people vie for the homemade goodies to bring home. I am also lucky in that my mum and a good friend of mine are also brilliant bakers and provide me with at least six dozen buns which I parcel up and bring for my contribution."
She continued: "My motivation to take part was because I have known several people, family and friends, who have been diagnosed with or died from various forms of cancer and I want to raise as much money as I can to help people living with cancer and to find cures for this awful disease. I generally only organise this event, although I did once do a sponsored walk with my family in our local area.
I believe it's important to stay involved with Macmillan and keep doing these coffee mornings as all funds big or small raised for the charity are important and even small amounts can make a difference to people living with cancer. The coffee morning is also a relatively straightforward event to organise and is great to get people together for a chat that wouldn't normally do so.
To take part in the World's Biggest Coffee Morning go to www.macmillan.org.uk/maketime or call 0845 6021246 to receive your free fundraising pack. If you or anyone you know, have questions about cancer, need support or just want to chat, call free on 0808 808 0000.
---
M&S cafés warm up for Macmillan coffee morning
M&S Cates across Northern Ireland have joined forces with Macmillan Cancer Support as the official partner of Macmillan's annual fundraising event, the 'World's Biggest Coffee Morning' on Friday, September 28.
Now in its 22nd year, the World's Biggest Coffee Morning encourages people to get together with friends, family and colleagues to enjoy a slice of cake and a coffee to help raise over £10.8million to improve the lives of people affected by cancer.
Up until October 3, M&S customers can go to over 13 M&S Cafés around the province and support the campaign by buying from a range of eight products, including the new Belgian Chocolate & Orange Cake, Triple Layer White Chocolate & Cherry Cake, Ham Hock and Piccalilli sandwich and flat white coffee. 10p of the sale price of each product, and 50p for every coffee sold on Friday, September 28, the day of 'World's Biggest Coffee Morning', will be donated to Macmillan.
Macmillan has once again created its popular celebrity recipe book 'The Little Book of Treats', available exclusively from M&S Cafés. The book (suggested donation £4) is jam packed with a selection of 20 brand new celebrity recipes including M&S Plan A Ambassador Joanna Lumley's Pecan Muscovado Cookies, Stephen Fry's Honey Buns and Dermot O'Leary's Chocolate & Pecan Brownies.
Also available in M&S Cafés for the month of September is Macmillan's brand new limited edition diamante rose pin badges (suggested donation £1) which come in ice-cream colours of pink, peach or cream and can be worn with pride to show support of World s Biggest Coffee Morning.
Make time for what really matters by holding a coffee morning. Visit www.macmillan.org.uk/maketime or call 0845 6021246 or text COFFEE to 88080 to get your Coffee Morning Kit.
---
Have a cuppa at Bonmarche
BONMARCHE in Lisburn is taking time on Friday, September 28, to celebrate Macmillan Cancer Supports 22nd World's Biggest Coffee Morning. Laura Hart, manageress from Bonmarche Lisburn said:. "We're really looking forward to our event and hope our customers join us on the day to raise as much as we can for Macmillan Cancer Support.
"Many of us at the store know friends and family who have been affected by cancer, so we all want to do as much as we can to support the vital services Macmillan offers."
Ulster Star
21/09/2012