A long journey to now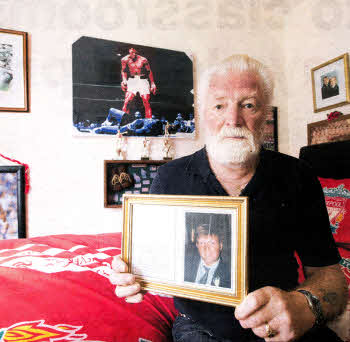 Norman Stewart.
NORMAN Stewart has spent much of his 70 years battling.
The ex-boxer and trainer from Ballymacoss not only fought off depression and alcoholism but has also had to deal with a litany on family tragedies.
He lost his 21 year old brother in a tragic car accident, his parents shortly after, his only son to suicide and his wife Noreen to cancer at the age of 44.
But it was not only his inner demons that the Lisburn man fought and defeated, as when he was just 14 he had to singlehandedly physically fight off school bullies who mocked the way he talked. While he has dealt with his fair share of tragedy he has been surprised at just how much solace and inner strength that he has discovered from a strong network of friends and family.
Norman's life reads like a book which is why a year ago he decided to put his story in print. The book entitled 'A Long Journey to Now' was launched at Balmoral Hotel on Wednesday with the help of one of the support groups he is involved in - Man Matters - a partnership project between Home-Start NI, Parenting NI, the Workers' Educational Association (WEA) and the Men's Health Forum in Ireland.
Norman's book was launched during World Mental Health Week (October 7-13) with the theme 'Depression: a global crisis'.
The aim of World Mental Health Week is to raise awareness of the importance of mental health and wellbeing in the wider community, to increase community awareness and education about mental health issues and to encourage participation in life enhancing lifestyles.
Norman hopes that those who read his book, will find inner strength to carry on and deal with whatever life throws at them.
"If this book saves just one life," he said, "then it is all worth it."
Unable to bear the loss of his only child Norman attempted suicide several times.
His alcoholic and drug dependent son Gary (28) was killed at Lisburn Railway Station on December 15, 1998, days after his eldest daughter's third birthday.
Unable to cope with the loss Norman tried many times to also take his own life. The gruesome details of how his son died triggered off one such episode.
Norman, in one episode, slashed his wrists, he stabbed himself in the heart and often longed to step in front of a car to stop his suffering.
"I found life without Gary very hard," said Norman. "I blamed myself."
At one stage he was saved by a neighbour who he calls his 'angel'. In an attempt to stab himself in the heart he realised what he had done and called for help from a neighbour, who ultimately helped to save him.
After another suicide attempt Norman went for treatment for ten weeks.
"I am a member of the Hibs and I walked in through the door after being away for 10 weeks," said Norman. "I have many great lifelong friends there and they said to me make sure you never try that again. I did not know how much people loved and cared for me. That was really powerful and made me stop and think."
Gary's wife also helped Norman. She told him• never to do that again because 'they' would not let him see the children again.
As well as losing his son and wife, Norman also lost a 21-year-old brother a member of the Irish Guard Pipe Band in 1963 in a tragic car accident in Holland. A female driver hit him as she drove around the comer on the wrong side of the road killing him instantly.
His grief stricken mother, a psychiatric nurse who worked at one time in one of the toughest mental hospitals in England in Rompton in Essex, also took an overdose and spent five years in Downpatrick.
Before Gary took his own life both father and son lived with each other.
"He would tell me how much he loved me and would sometimes say that I did not love him enough," said Norman. "It was hard to hear. I was Acting as both a mother and father to him after his mother died."-
At one stage Gary went missing for a few weeks only to be found sleeping rough at a local social club. But it was when Norman got a call from his GP to tell Norman to come to his wife's grave that Norman knew all was not well.
Gary was found high on drugs and standing at his mother's graveside wearing his fathers much loved boots and pants and his mother's head scarf, and bandages around his arms
"We knew then all was not well," said Norman. 'At this stage we knew that his mind was going.
"He was on drugs but he was just like a wee baby that needed to be held. I think that he felt that I never loved me enough. I felt that I was trying to be a father and a mother to him."
Gary also took an overdose before he carried out his suicide at the railway.
"I have always blamed myself," Norman said. "He would often say that he loved me and believed that he gave me everything. He said that I never loved him enough.
I often sat up night after night asking what I was doing wrong. I had been trying to be a father and mother to him,"
Gary had been an aspiring boxer with hopes of making it to the big time.
He was to train at Barney Eastwood's club in Belfast and he was to become professional but he was talked out of it," said Norman. "I think that he regretted it."
Norman who has two biological grandchildren from Gary as well as two others from his daughter-in-law and her partner Paul.
"I have four grandchildren who mean the world to me," said Norman."! feel that I may have lost Gary but Corrine and her partner have been like a godsend to me. They have helped me and they have reared four beautiful children and for that I am truly thankful."
Norman was taught when young about the art of protecting yourself. While at school he was tormented by a crowd of bullies because he could not pronounce his words. He was coached on how to box and told that if anyone came near him to use his fists to fight them off.
"The bullies would say what's wrong with Norman, they did It because I would not say Stewart," said Norman. "I was coached by a boxer who told me to use my left. I waited for the free opportunity and then just lunged at him and punched him.
"I bled his nose and the teacher asked me why did you do that. I told him that he was mocking me and he quietly told me that I did the right thing. I was never bullied again."
Though Norman had a promising boxing career he felt that drink at the age of 17 had wrecked what chances he had to becoming a footballing star. He signed for Glenavon but drink ruined his chances of having a fulfilling career with the club.
Thanks to a network of friends and family Norman now feels his life has turned around for the better. Norman said: "I've dealt with so much sorrow and pain. I've dealt with depression and low self-esteem my whole life and I turned to alcohol to numb the pain. I tried to take my own life on a number of occasions because I just couldn't cope. Losing my son was just unbearable."
Since 2010 Norman has been a member of the Colin Men's Group and has taken part in some courses provided through co-operation between the Man Matters project and the Colin Neighbourhood project, both funded through the Big Lottery Fund's Live and Learn programme.
This has made a huge difference to Normans life: "The support that comes from having other men, like myself to talk to is like a light coming on in the dark. We can be open and honest with each other and its okay to say you feel down, tired and afraid and yet you're no less of a man for saying so."
Diarmuid Moore, Assistant Director of the WEA felt that Norman's story was so powerful that it deserved to be supported and the book was published with help from the Man Matters project.
Diarmuid said: "The Man Matters Project is honoured to help Norman tell his story. Although the book is an emotional and sometimes difficult read it is none-the-less important for that. It deals with many issues that too often remain hidden but perhaps most importantly it shows the power of getting involved in groups and how that can help. Hopefully this book will encourage them to look for help and get involved in community groups like this one."
Copies of 'A Long Journey To Now' can be downloaded from the WEA website at www.wea-ni.com. While the book is free of charge it is Norman's wish that those who read the book and find it worthwhile will make some contribution to a charity dealing with suicide awareness or bereavement through suicide.
Ulster Star
12/10/2012