Dismay and anger over nursery place shambles
by JULIE-ANN SPENCE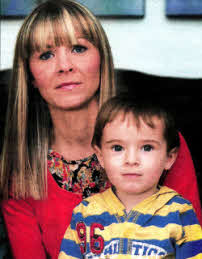 Louise Lavery with her son Tom. US1412-122A0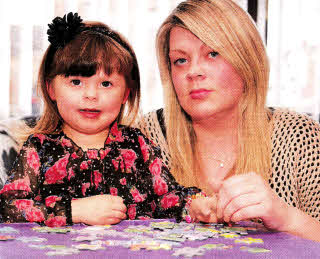 Emma McKnight, from Knightsbridge, Lisburn, has been unable to find a pre-school place for her three-year-old daughter Ruby Webster. US1412-514cd
PARENTS across Lisburn have been left stunned after being told this week that their child had not been granted a nursery school place for September - with some being told there are still vacancies in Newcastle, Ards and Bangor. Lagan Valley MP Jeffrey Donaldson had warned that many children would once again be left without a place for next year and had met with the Education Minister John O'Dowd to press him to make additional places available. But while the Minister said he was committed to making nursery places available for children he has not narrowed down the catchment area.
Now parents are calling on Mr O'Dowd to ensure nursery places are available in their own area and within a short distance from the child's home.
There appears to have been a particular shortage in the Ballymacash area, with many parents contacting the Star in distress that they cannot secure a local place for their child, with many being offered alternatives as far away as Maghaberry or Poleglass.
Emma McKnight, who lives in the Knightsbridge area, received a letter from the SEELB advising her that her first three choices for her daughter Ruby had been rejected.
"I am a very angry and upset mother, she said. I had made my first two choices for the local Ballymacash Primary School as AM and then PM as the school only offersw part time places, the third choice was for Killowen as it is within walking distance.
"However all three were rejected even though my daughter met the required criteria. My daughter falls within the required age bracket, we live exactly 0.4 miles from the school and she currently attends the playgroup at Ballymacash. Along with the letter I received a list of other nursery vacancies firstly in Lisburn and then expanding to Newcastle, Ards and Bangor. Do they really believe a family should travel that distance five days a week for approximately two and a half hours
"My concern now is for my daughter and other children who did not receive a preschool placement. I fear that the problem may be repeated in a year from now as they try to enter Primary 1. The Education Minister is forcing parents out of work to allow their children an education. These children have been badly let down and will continue to be until changes are made."
Andrea Cummings, who also lives just a short distance from Ballymacash Primary, said her daughter Sophia was not offered a place at the nursery school, even though she currently attends the playgroup.
I understand there are criteria as with all the other schools but it's a disgrace that we live within 0.9 miles from the school gates (this was one of the criteria) but yet Sophia hasn't been offered a place. She hasn't been offered any place and when the list of nurseries still with places available came with the letter the closest one was Maghaberry."
Andrea has written to the Education Board to appeal the decision and is also calling on the Education Minister to make more nursery places available in the local area. I am so angry and want to do everything I can for Sophia's education," she added.
Louise Lavery, who lives just 500 metres from Ballymacash Primary School, also failed to secure a place for her son Tom. "Tom hasn't received a nursery place, despite me filling in all six places on the application," she explained. "We live 500 metres from Ballymacash Primary School. Tom is currently in attendance at the playgroup, and all the other kids on our street go to the school.
"I feel angry as I know of other children who have got into the school who live at the other side of Lisburn but because there parents are on income support they have first choice of all the schools. They are taking places away from children in the area of the school. I understand that children with socially disadvantaged backgrounds need to be given places, but should they not just have first choice at their local school, and then if they choose a different school be given the same chance as everyone else?"
Parents now face an anxious wait to see if their appeal against the decision will be upheld or if the Minister will agree to make additional places available within the local communities. Until then, they can only hope that a solution will be found and that their children will not be adversely effected.
*Have you been affected by the shortage of Nursery School places In the Lisburn area? Share your experience by contacting us on 92679111, email news@ulsterstar.co.uk tweet us @LisburnStar or facebook www.facebook.com/lisburnstar
julleann.spence@ulsterstarco.uk
Ulster Star
06/04/2012