TA reservist enjoys his Olympic experience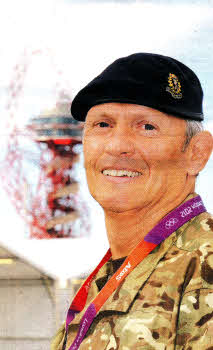 Major Jonathon Brice
LOCAL TA reservist, Major Jonathon Brice, HAS played a vital role in the London Olympics as he was amongst many members of the Armed Forces to come to the rescue to provide security at the events. It has become a bit of a cliché in recent years to describe the TA as ordinary people doing extraordinary things but in this case that description is very appropriate.
With the largest show on earth about to kick off, and with issues regarding the level of guard support at the Olympic sites, further deployments to the already sizable Armed Forces contribution were required.
In amongst the regular service men and women were Territorial Army (TA) soldiers from all over the country including Northern Ireland. One such unit, 253 Medical Regiment based at Sunnyside Street in Belfast played a major role in this once-in-a-lifetime event - a role that Jonathon is relishing.
Since joining the unit in 1985 the Co Down man, who works as an environmental health
officer, has deployed to many different countries including Bosnia, Kosovo and South Africa.
Alongside his colleagues, and members of regular Army units, he was instrumental in organising the vehicle search area (VSA) at the site of the Olympic park in Stratford.
It only took Jonathon and his colleagues several minutes to thoroughly search any vehicles coming through the VSA and he says the reaction of the public was 'fantastic'.
Jonathon said: "The guys adapted very well to their roles. They had plenty of down time and they were allowed to walk through. the Olympic park - which in itself is an experience - and occasionally we managed to get them tickets to get them in to the venues."
Jonathon has one keep-sake from the Olympics that he will always treasure; an unused ticket to the blue-ribbon event at the Games, the 100-metres final. Soldiers had been offered seats at events where there was spare capacity, unfortunately for him the seats were filled at the last minute.
Ulster Star
17/08/2012