Outstanding achievement for Lisburn advertising designer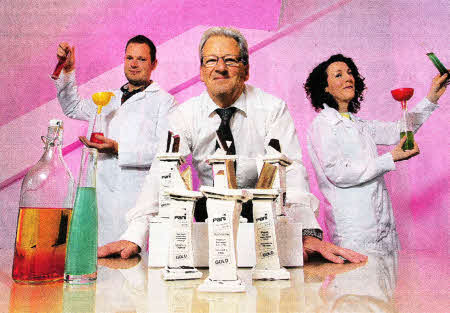 When it comes to bottling creativity, Belfast Advertising Agency, RLA have the recipe for success. Lisburn graphic artist and designer Jim Adams, Art Director with the agency, along with RLA Managing Director, Ian Erwin (centre) and fellow designer Emma Fitzsimons have together just landed six advertising industry PANI Awards, including 3 Golds, for their creative advertising campaigns.
AN artist and graphic designer from Lisburn has led an advertising design team to pick up no less than six creative advertising industry awards.
Jim Adams, Art Director with Belfast based advertising agency RLA, has picked up three gold and three bronze awards at the recent Publicity Association of Northern Ireland (PANI) awards.
RLA is celebrating its outstanding achievement after scooping the awards at a ceremony designed to promote and profile excellence within the marketing industry in Northern Ireland. An independent panel of industry experts from outside of the province was involved in the judging process, ensuring that the entrants were assessed against national standards.
Jim said, "The competition in the categories we entered was very steep so we are even more proud to have walked away with six awards. Our winning work included campaigns for Kia, Belfast City Council, Fostercare and the Integrated Education Fund. The awards have showcased the calibre of our creative output across a diverse range of clients."
The company was presented with the accolades for their campaigns across radio, press and television categories which spanned charity, local council, public and private sectors. Each campaign was deemed creatively strong and stood them apart from their competitors in the way that their clients would wish to stand apart from theirs.
With high praise for the work of Jim and the team, Ian Erwin, Managing Director, RLA said, "We never put awards at the top of our list of priorities however they are nice to have. If our client is happy and we are helping them to grow their business then the award is the icing on the cake. It shows that our creative teams are up there with national agencies and it is great to have that recognition."
Ulster Star
20/07/2012