OVER TO YOU
Locals get their say on £4m plan for new look city centre
by JULIE-ANN SPENCE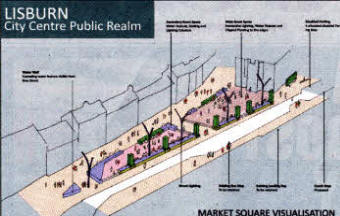 Market Square visualisation
SOCIAL Development minister Nelson McCausland has invited local people to have their say on a multi-million pound transformation of Lisburn City Centre.
The significant public realm improvements aim to make over the main city centre streets and public spaces to high quality contemporary design standards.
Mr McCausland said the ambitious scheme will significantly raise the quality of the environment in the city centre.
And he added: "It will help to attract new business and leisure activities that will in turn diversify the city centre's economy and sustain activity outside traditional business hours.
"I feel it is vitally important that local communities actively participate in the consultation process and I encourage everyone to view the proposals for the city centre and let us know your opinion.
"We know from the success of public realm improvement schemes in other towns and cities that regeneration projects such as this can transform a place," he continued. "They also provide employment in the construction sector, which in turn supports the wider economy. This investment in Lisburn is a fundamental part of our strategy to deliver the economic regeneration of our towns and city centres and ensures that they remain vital and viable for the future."
The total cost of the Lisburn scheme is estimated at £4 million. This will be funded by contributions of up to £2,750,000 from the Department for Social Development and £1,250,000 from Lisburn Council.
As recommended in the Lisburn City Centre Masterplan, which was published in
September 2010, the project will create a high quality public realm in two priority areas - Market Square and Bow Street with Haslem's Lane, Market Street and Graham Gardens also included.
The public consultation will run until Wednesday May 30 with the proposed plans being displayed in three locations - Lisburn City Library, Lagan Valley Island and at the offices of Lisburn City Centre Management in Market Square.
The Design Consultants will also be in attendance at the display in Lisburn City Library on Tuesday May 1 from loam until 2pm to give people an opportunity to discuss the plans and get answers to any queries not apparent from the information boards.
Alderman Jim Dillon, Chairman of the Council's Economic Development Committee said they had received 'encouraging input to date' from city centre stakeholders.
"The design is certainly ambitious but we feel it will deliver something unique for the City and set us apart as a great place to visit and do business in" Mr Dillon said. "Members of the public, city centre visitors and other stakeholders are all encouraged to come along and give their views either through the feedback forms that will be at the displays or directly to the Council's Economic Development staff."
Alderman Allan Ewart, Chairman of Lisburn City Centre Management, added: This six week consultation period is an excellent opportunity for any City Centre businesses and interested users to have a look at what is planned and give their view. This is such an important project for Lisburn's future economic development and we want everyone to be involved in the success of it."
What do you think of the plans to regenerate the city centre? Do the plans go far enough? Will it help to boost the city centre trade? What would you like to see in the new plan? Share your opinions. Contact us by emailing news@ulsterstar.co.uk, tweet us @LisburnStar, share your views on Facebook at www.facebook.com/lisbumstar or contact us on 9267 9111.
julieann.spence@ulsterstar.co.uk
Ulster Star
27/04/2012