Parkinson's branch donates £6,000 to Diabetes research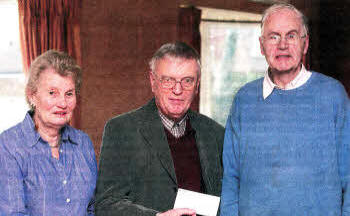 Violet Swarbrigg Secretary, Jim Henry Chairman and Stephen Anderson Treasurer Parkinson's UK Lisburn Branch making a donation of £6000 to Professor Duchen of the University 0f London Parkinson's Research Project. 050312-101A
THE Lisburn Branch of Parkinson's UK has donated £6,000 to research currently being carried out by the University of London into whether diabetes drugs can help people with Parkinson's.
The local branch, who meet each Monday in the Lisburn Racquets Club, have donated £36,000 to various research projects in their five years of existence.
Branch Chair Jim Henry said that of the various research projects available to donate to, this particular one, 'Can a Diabetes drug also help people with Parkinson's?, a two year study being carried out by Prof Michael Duchen, costing £106,835, struck a chord with many of the local members.
Jim explained: "Every year we make a donation to a research project. We have a policy of donating at least 10% of our bank balance to either research or by donating the money to Parkinson's and telling them to spend it as they see fit.
"Quite a number of the local members have diabetes and I am one of them. There have been problems with the Diabetes drug and the Parkinson's drug, so it is important to look at that so that something can be done to help people with Parkinson's and Diabetes. "People in the group felt that this project was the closest to home. I had to change my Diabetes medication when I want on my Parkinson's medication because of the side effects so we felt that this was an important research project."
The local group raised between £26,000 and £27,000 throughout the past year, with a number of events being organised in aid of the group, including Country and Western conceits, a charity cycle, coffee morning's and quizzes, whilst they were also the chosen charity of the year for the Harry
Ferguson Memorial Trust.
Jim added: "I would like to thank the members of the Lisburn Branch and those other organisations this year who nominated us as their chosen charity"
stacey.heaney@ulsterstar.co.uk
Ulster Star
20/01/2012