Tears and joy as Patrick comes home
`Saoirse and Patrick were delighted to see each other. We were all crying'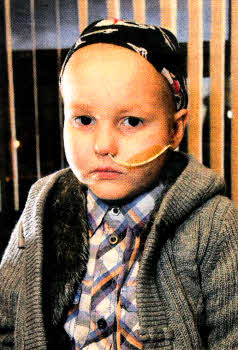 Patrick while he was in Bristol
THERE were shocks and a few tears when 7-year-old Patrick Campbell returned home to Crumlin on Tuesday afternoon after a life saving bone marrow transplant.
His grandparents and sister Saoirse got the surprise of their Ives when Patrick stepped out of a limousine to greet them.
Patrick, who had been in Bristol Hospital for the past three months recovering from the transplant, had just touched down at the International Airport in Aldergrove at 12.15pm on Tuesday.
Thanks to Shine-a-Light he, along with his mum and dad, were picked up in a limousine at the airport and made some surprise visits.
They first went to see Saoirse where they hugged when picked her up from school. They then went home to
the Beeches where their grandparents also got the shock of their lives.
Mum Mairead said: "There were only a few people who knew we were coming home. We wanted to surprise them all. Mum said that when she saw the limousine she thought the Lord Mayor had come to see her.
"She was over the moon. She sat and hugged Patrick for about half an hour and he wouldn't let her go. Saoirse and Patrick were delighted to see each other. We were all crying.
My brother was in on the surprise and so was a friend, Paul McPeake. He came down with a lovely Superman cake but Patrick could not eat it. We only found out the Thursday before that we were coming home but we didn't want to get our hopes up and so only a few people were told."
Mairead said Patrick is still being tube fed and will still have to attend the Royal Hospital for Sick Children up to three times a week.
"The main issue now is his diet," said Mairead. "He needs to be taking up to 1000mls a day and is only taking about 640mls. We plan to see a dietician."
Patrick had also been suffering from spiking temperatures a few weeks ago at Bristol Hospital, but a number of scans came back which doctors have described as 'pristine', a virus test returned negative and further blood tests all reassured doctors that all was still well.
He was taken to a much deserved day break to the beach at Weston Super Mare last week,
Mairead has also been told that Patrick has been nominated for a Children of Courage award and has been invited to an event on April28.
Patrick was diagnosed wApril 28-Hodgkins T-Cell Lymphoblastic Lymphoma, a rare form of cancer, over two years ago and doctors said the only treatment available was a bone marrow transplant. He had to have daily bouts of strong radiation and chemotherapy and intense medication in the meantime.
Patrick has been in England since before Christmas.
A special Facebook page Pray for Patrick has been set up which has now already over 3,111 followers.
Ulster Star
06/04/2011