Little Patrick gets ready for bone marrow transplant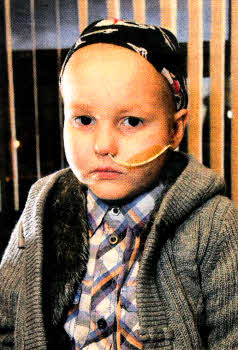 Patrick Campbell
LITTLE Patrick Campbell from Crumlin is expected to have a bone marrow transplant today at Bristol Hospital.
The seven-year-old's family say the operation is the next step in what has been a 'long arduous road' since Patrick was diagnosed with a rare form of cancer over two years ago.
Doctors at the hospital say they have been amazed at how well the schoolboy has been doing despite being in obvious discomfort and pain.
His family say the daily bouts of strong radiation and chemotherapy has left the little boy in a lot of pain, but he has astounded doctors at how well he has coped.
A family member said that while other children have been too sick to get out of bed he has been getting up to play.
Getting ready for the bone marrow transplant has been a huge step for the family.
They had been unsure whether Patrick, who suffers from Non-Hodgkins T-Cell Lymphoblastic Lymphoma and has been in England since before Christmas, was well enough to undergo the transplant.
He was diagnosed in 2009 at the age of five and underwent chemotherapy and for a long time responded well to treatment.
However 18 months after he was diagnosed, on his 7th birthday, his family were told his cancer had returned. Doctors have said it is important he go into remission to be viable for the bone marrow transplant. The bone marrow donor, a girl from Germany, has already been found.
A prayer vigil was held at Mater Dei Church in Crumlin the day his family flew out to England before Christmas.
Doctors were able to tell the family recently that the intense treatment he has been on has got rid of the tumour from Patrick's chest and the tumour in his neck has also gone down considerably.
A special Facebook page Pray for Patrick has been set up which has now already 2,800 followers
Recently on the page it stated, "Because the brave Patrick had coped so well with intense treatment doctors are so proud of him and he is now getting more Nelarabine along with radiation and so he is now ready for bone marrow.
A long long arduous road ahead still but by God are we happy he is being given the chance...so so so happy right now Thank you all for your prayers...I'm sure you join us all in our happiness...Much love and extreme thanks.....
mary.magee@ulsterstar.co.uk
Ulster Star
20/01/2012