Patrick begins long road to recovery after transplant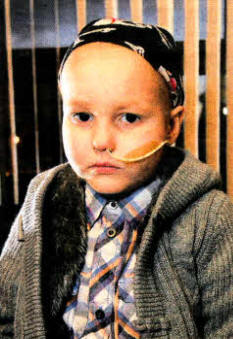 Patrick Campbell
THE mother of little Patrick Campbell from Crumlin who underwent a bone marrow transplant last Friday says that she is pleased so far with the seven year old's progress.
Mairead Campbell said the little boy is showing positive signs of a good recovery.
Currently in an isolation ward at Bristol Hospital where he is expected to remain for several weeks on morphine and on a food drip. He has suffered from ulcers around his mouth, tongue and throat since the hour long transplant last Friday at 5pm. But by Wednesday he was awake for most of the day, was able to sit upright on his bed and able to watch television and play with his toys.
"Doctors have been pleased with his progress," said Mairead. "His mouth, tongue and throat are sore but on the whole the doctors are pleased considering everything he has come through. "He has coped really well. He is not a child to complain and is just taking every thing in his stride." Jt may still take some weeks before the bone marrow can take affect and Patrick may be in isolation for another six weeks at least.
"We have been told to expect that he will go downhill for a time when he received a new bone
marrow," said Mairead.
"But today (Wednesday) he has perked up a little.
"He sat up on the bed and this has been the first. He has been very sleepy all week but has been awake for most of the day. He was able to watch television and has been up from 9am which has been the longest he has stayed awake.
"He has been able to take iced water. I am very pleased at how well he has been coping. He looks good and his colouring looks good."
Last weekend, he got a welcome visit from his nanny Lynne Campbell.
"When she arrived in the hospital J was told that it was nanny time and I left them alone. He totally adores his nanny" said Mairead. Patrick was diagnosed with Non-Hodgkins T-Cell Lymphoblastic Lymphoma, a rare form of cancer, over two years ago and doctors said the only treatment available was a bone marrow transplant. He had to have daily bouts of strong radiation and chemotherapy and intense medication in the meantime. Patrick has been in England since before Christmas.
A special Facebook page Pray for Patrick has been set up which has now already 2,800 followers.
Ulster Star
27/01/2012