Positive tests show Patrick on the road to recover.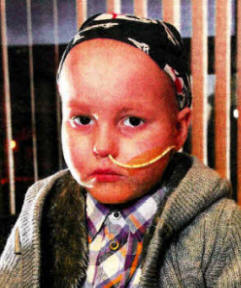 Patrick Campbell.
A CRUMLIN mother Mairead Campbell, whose seven-year-old son Patrick received a bone marrow transplant, has spoken of her gratitude to the donor as her little boy continues to make a good recovery.
Mairead said results from an early chimerism test showed that Patrick's bone marrow is that of the donor with none of his own bone marrow present in his body. It comes as welcome news and is another huge step on the road to recovery for the little boy. It was just weeks ago that Patrick, who suffers from Non-Hodgkins T-Cell Lymphoblastic Lymphoma, a rare form of cancer, underwent the bone marrow transplant at Bristol Hospital.
"He had a chimerism test done to determine how much of the bone marrow is Patrick's and how much is the donor's," said Mairead. "It needed to be 100% new donor to reduce the risk of the cancer coming back.
"The results showed that it is, meaning that all the bad bone marrow of Patrick's is now gone and he is a great place for a complete and full recovery.
"We are absolutely over the moon with this news, words cannot describe how proud we are of Patrick and how thankful we are for the donor's bone marrow and also for each and every thought and prayer for the wee man.
"For a little boy who before Christmas was offered palliative care he has astounded us all with his determination to beat this illness. As his Christmas wish was to be better, it now looks as if he has got his wish."
As a celebration the family went out to buy his favourite Star War toys.
Patrick was recently taken out of isolation where he had been on morphine and on a food drip. He is off the morphine and is now allowed out for a few hours every day to spend time with his family at a flat. He returns to the hospital each evening.
"He is just a brave little soldier, said Mairead. "He just astonishes us every day with his progress. We have been truly blessed."
Mairead says that, with the recent good news plans to get him back home are now nearing.
It is still too early to say yet, but I would like to think that he could be home in a month's time," she said. "I am almost afraid to say but that would be our aim.
"We want him to start eating solid foods again. I made him pancakes on Shrove Tuesday but he was only able to take a few nibbles and said that he felt sick That is our next goal, to get him eating solid foods. "Overall the doctors are pleased with his recovery. He was sitting up today playing with his Star War figures. I played hide and seek with him for about ten minutes but then he gets tired, but it is all good progress.
"He is at the stage where he keeps asking me if he can go outside and play but that is a way off yet He cannot go out for fear of infection. We were told that it will be a year and a half after the bone marrow when he is still prone to infection."
A special Facebook page Pray for Patrick has been set up which has over 3,044 followers.
Ulster Star
24/02/2012