Standing ovation for so brave Patrick
by MARY MAGEE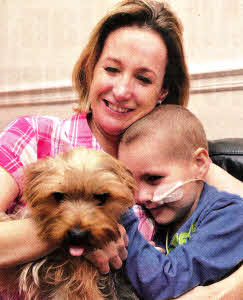 Patrick Campbell with his mother Mairead and his pet dog Tiddles. US1512-402PM Pic by Paul Murphy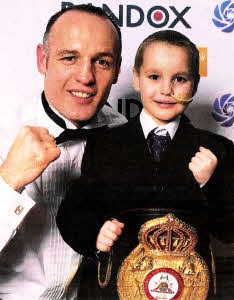 World champion boxer Brian Magee with little Patrick Campbell.
left A BRAVE Crumlin boy who has been battling a rare form of cancer has been given a standing ovation as he received a Courage Award. Celebrity wedding planner Anthony Miller choked back tears as he presented Patrick Campbell with the award, commending him on his incredible strength and telling him how proud everyone in the Crumlin community was of him.
Patrick was allowed to leave his hospital bed for three hours to attend the ceremony to receive his award, and the entire room gave him a standing ovation for his courage and determination.
The seven year old recently returned home after spending three months at Bristol Hospital recovering from a life saving bone marrow transplant.
Patrick was diagnosed with Non-Hodgkins T-Cell Lymphoblastic Lymphoma, a rare form of cancer, over two years ago.
This was the third Annual Crumlin Community Awards hosted in ' the Park Plaza International Airport Hotel. Almost 14,000 votes were cast this year for the 15 award categories, making the Community Awards the biggest and best to date.
The awards were set up three years ago by the late Barry O'Kane, with the aim of recognising those whose achievements and good deeds may otherwise go unsaluted. The awards were sponsored by Randox, Oaktree Nurseries, and Crumlin Flowers and Gifts.
Awards organiser Jennifer O'Kane said: 'We have a vision for the Crumlin Community and our sponsors gave us the support to make that vision real. Thank you from the bottom of our hearts."
Radio and TV presenter Robin Elliott compered the show and recognised the importance of all of the nominees' work in the community and how these people are inspirations to their community.
The Randox Award for Role Model of the Year: Mr McMullan — St Joseph's Primary
The Award for Helping/ Caring for Others: Friends Of St Josephs
The Courage Award: Patrick Campbell
The Crumlin Florist and Gifts Community Star Award: Florence Faulkner
The Award for Outdoor Event Of The Year: The Irish Cultural Day, Gaelscoil Ghleann Darach
The Award for " Services to Charity: Stuart Graham
The Award for Service With A Smile: Petzone
The Randox Award for Sports Person of The Year: Jason McKay
The Oaktree Nurseries Award for Team of the Year: St James Aldergrove Under 8's
The Randox Award for Primary Teacher of the Year: Coaimhe Donnelly, Gaelscoil Ghleann Darach
The Oaktree Nurseries Award for Secondary Teacher of the Year: Mr. S. Nugent, St. Patrick's Academy
The Award for Nursery Leader/ Teacher of the Year: Catherine Murphy — Oaktrees Nurseries
The Award for Best Entertainment Venue: Moe's Grill, Antrim
The Award for Best Place To Eat: Mcllroys
The Lifetime Achievement Award: Tommy Jackson
Ulster Star
05/04/2012