Patrick scores Knockout blow in Sports Volunteer Awards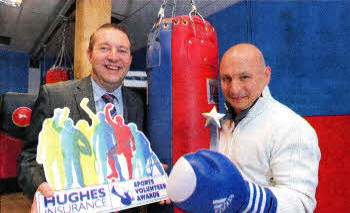 Hughes Insurance Lisburn Branch Manager Andrew Oliver with Patrick McKay
PATRICK McKay, who works with the Canal Boxing Club, has been chosen as the Lisburn regional winner of the Hughes Insurance Sports Volunteer Awards.
The awards recognise the unsung heroes of local sport in communities across Northern Ireland, and Patrick's dedication knocked out the judges.
Patrick coaches at Canal Boxing Club spending many evenings and weekends coaching children and taking them to competitions.
The judges said he puts his heart and soul into the club not just by coaching the children but providing support and even transport for those who need it.
Hughes Insurance Lisburn Branch Manager Andrew Oliver said: "There is some fantastic work being done by sports volunteers in our community and we want to thank everyone who took the time to nominate people they know doing some fantastic volunteer work.
We are delighted to announce Andrew as our winner for his work with the Canal Boxing Club and give him the recognition he deserves." The aim of the awards was to unearth the true sporting heroes in our communities and were judged by an independent judging panel. Twelve regional winners were selected across all the Hughes branches with each winner being awarded £200 for themselves along with £500 for their club and a bespoke trophy.
All 12 branch winners now go forward to the Northern Ireland finals and the chance to win the Overall Sports Volunteer Award title.
Ulster Star
20/07/2012