Dromara student creates innovative vaccinations app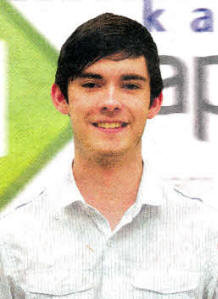 Paul Acheson.
A DROMARA student is one of five lucky undergraduates to secure a place in the final stages of Kainos AppCamp. AppCamp offers a unique and exciting opportunity for young developers and entrepreneurs to conceive and develop their own innovative mobile apps.
Paul Acheson who studies at Queen's University faced competition from 11 fellow AppCampers' who pitched their app ideas to a panel of experts including Brendan O'Brien, Consultant Public Heath Doctor with the Public Health Agency, Each year this unprecedented initiative captures the imagination of some of the most talented students as they compete to get their iPhone/iPod Touch and iPad apps into the Apple App Store.
Paul McCoy, Investment Manager at Invest NI and Tom Gray, Kainos's Chief Technology Officer, in a bid to progress to the final stages of the competition.
The students with the most innovative app ideas aimed at healthcare education and improving the lives of sufferers of various conditions, have been selected to return to Kainos for the remainder of the summer to develop and launch their app on the Apple App Store.
Paul's app, Vacci-Nations, will provide users with a list of recommended vaccinations for each country and other vital health information for travelling abroad. The user can also compile lists of vaccination§ that they need and set reminders to book an appointment with their GP or travel clinic. Paul said: "My goal is to equip the user with all the vaccination information that they need within the app prior to travelling, without having to perform any lengthy internet searches. The information will be up-to-date and relevant, easily accessed and most importantly accurate."
Following six weeks of intensive development and testing, the five finalists will release their apps and compete for the chance to be crowned winner of this years competition based on a range of criteria including number of downloads and reviews. The apps are expected to be released in September and the winner,. who will take away the latest Apple devices, will be announced towards the end of the year. Follow @KainosAppCamp on Twitter throughout the summer for more information.
Ulster Star
10/08/2012