World's best young brickie picks up another award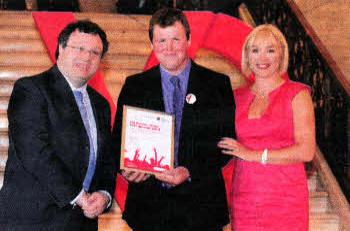 With Employment and Learning Minister Dr. Stephen Farry are television presenter Tina Campbell and Philip Green, shortlistee for VQ Learner of the Year 2012.
LISBURN bricklayer Philip Green - the 'best young bricklayer in the world' - has received a certificate of achievement at this year's VQ Learner of the Year awards ceremony.
Employment and Learning Minister Dr. Stephen Farry presented Philip, 22, with his certificate of achievement at an awards ceremony in Parliament Buildings.
VQ Day is a UK-wide celebration of the achievement of the millions of people, who gain a vocational qualification every year, and recognises and celebrates the value of vocational qualifications.
In his keynote speech, the Minister praised all of the VQ Learner of the Year finalists: "Skills form the backbone of any economy and all the finalists should be justifiably proud of their achievements and look forward to successful careers in their chosen field."
Philip, has achieved NVQ Level 2 & 3 in Trowel Occupations at Belfast Metropolitan College's Millfield campus in Belfast. He won the gold medal in bricklaying at the WorldSkills international skills competition in London last year thus earning himself the title of best young bricklayer in the world.
Alan Stewart from Belfast Metropolitan College said: "Philip's WorldSkills victory in October 2011 has been they highlight of his career to date. This is the first time a bricklayer from the UK has won Gold in 14 years.
Philip has demonstrated that he is not only the best young bricklayer locally and nationally but also in the entire world. Philip's success and achievements demonstrate the value and importance of Vocational Qualifications."
David Cooper from CITB ConstructionSkills NI recognised Philip as a perfect role model and ambassador for vocational education and qualifications and as such has included a case study of Philip's career path and experience of representing the UK at WorldSkills in their January 2012 publication, 'Training in Action — Construction Case Studies'. This publication is used to highlight individuals who have achieved significant career development through vocational qualifications and training and is widely circulated and promoted as a careers information and industry promotional resource.
Dr. Farry added: "A well-qualified workforce will reap dividends in the future if you invest in training today. Today we celebrate the ways in which vocational education and training, in all its diversity, delivers benefits for learners, employers and Northern Ireland as a whole."
Ulster Star
13/07/2012