Mother and daughter follow the pilgrim trail to help Action Cancer
by MARY MAGEE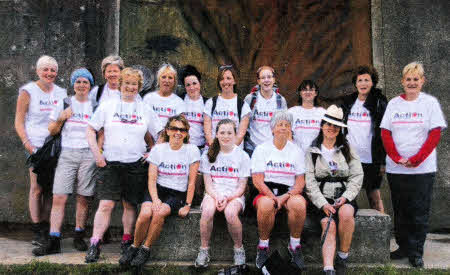 Schoolgirl Anna Armstrong (centre, seated) with her mum Jackie (front row left, standing) and their fellow Action Cancer Camino de Santiago trekkers
A MOTHER and daughter from Drumbeg have just completed a trek along the legendary pilgrim trail Camino de Santiago in Spain to raise money as a tribute to their dear mother and grandmother Joan.
Jackie Armstrong and her 13-year-old daughter Anna - a Methody student - walked 130km across Spain and raised £4,000 for Action Cancer. Their mother and grandmother died 16 years ago and Jackie had always promised herself to do something for a cancer charity but had never quite got round to it.
The Camino de Santiago — or The Way of St James - stretches hundreds of miles from all corners of Europe and leads to the stunning cathedral of Santiago de Compostela in Galicia, where the remains of the apostle St James are said to be buried. The locals were part of a group of 14 who hiked an average of 21km every day for six days. The trek began in Sarria, and covered miles of undulating landscape.
"The trek was quite a challenge, but it was perfect pre-season hockey, netball and cross-country training for me," said Anna. "There were more hills than I was expecting so I was glad I had taken part in the pre-trek training sessions in the Mournes, organised by Action Cancer.
"I learned valuable team-working lessons, particularly since the group ranged in age from me, at 13, to 60 years old! I even got to speak some Spanish. This has inspired me to do other charity treks in the future; when I am older I would love to have a go at completing the rest of the Camino, starting in the French Pyrenees."
Anna and Jackie trained for over a year in preparation for the trek, alongside the challenge of raising sponsorship. To meet their target they held various fundraising events, including a 'Coffee, Cake and Chat day for friends, family and neighbours at their home in Drumbeg.
All money raised through the Camino de Santiago trek will be used to fund Action Cancer's early detection, counselling and complementary therapy services, which are available to anyone living with a cancer diagnosis as well as their friends and family. Jackie said it a challenge but an adventure well worth doing.
"Since my mother died 16 years ago I always wanted to do something for a cancer charity," she said. "I felt it was a good time now and then my daughter, who is sporty, wanted to do it as well.
"It was an amazing journey because it helped me reflect about my mother. My daughter and I have a very close relationship as my mother and I did,"
Jackie recalled how during the trip they were stopped by a French man.
"We were wearing Action Cancer tee shirts," she said. "The man stopped us and said he had been diagnosed with throat cancer. He hugged Anna for helping to raise money and awareness for cancer."
Lyn Palmer, of Action Cancer said: "Participants on these overseas challenges always return with a real sense of achievement, as well as a new group of friends. Not only are treks a great opportunity to raise funds and awareness for Action Cancer, they are also a chance to explore the wonders of the world with a group of people who may understand exactly what you have been through. I'm very proud of our trekkers, and so thankful for their incredible fundraising efforts. Action Cancer receives no government funding and so, without people like Anna and her mum, the charity simply couldn't exist."
Anyone who would like to take part in an overseas challenge can contact Lyn Palmer on 028 9080 3369 or email trek@actioncancer.org for more information. mary.magee@ulsterstar.co.uk
Ulster Star
27/07/2012