Good news and bad as fate of stations decided Police chief gives his backing to Dunmurry station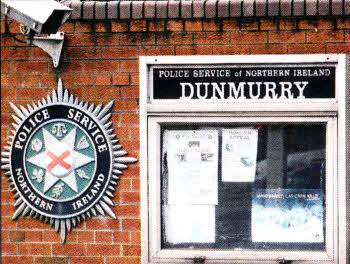 DUNMURRY police station looks set to be reprieved after the PSNI's District Commander recommended it remain open for 'operational reasons'.
Dunmurry was on a list of stations across Northern Ireland being considered for closure in a review by the PSNI, along with Hillsborough.
But this week the District Commander, Chief Superintendent Henry Irvine, told a public meeting in Dunmurry he has recommended to senior PSNI command that Dunmurry remain open "due to operational reasons". MIA and Policing Board member Jonathan Craig and Councillor Margaret Tolerton, Chair of Lisburn DPP, said it had come as a "welcome surprise" at Monday night's Public DPP meeting in Dunmurry.
It was after several people had strongly argued for the retention of the station that Chief Superintendent Irvine made the announcement.
Mrs. Tolerton commented: "This is welcome news for the Dunmurry Area and will restore confidence in the PSNI that had been ebbing away. It is a clear reflection of the cross community support for the station and more importantly the fantastic work carried out by the local community policing team, and will insure that the work carried out between them and the local community teams, with regard to lowering community tensions in the area, will continue and flourish."
Mr Craig said: "I am glad that good sense has prevailed over the future of Dunmurry station, a station which typifies the new shared future for Northern Ireland where both communities interface with the PSNI, regularly meeting in the station. The fight to insure this recommendation is carried through now moves to the Police Board where I will not only do all that I can to insure Dunmurry 's future, but will also take up the fight to save Hillsborough station."
Campaigners vow to continue fight to save Hillsborough station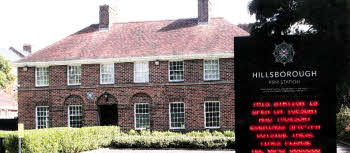 HILLSBOROUGH Police station has been formally proposed for closure following a review of police buildings in the Lisburn Area - but campaigners say they have not given up hope the station can be saved.
The recommendation was made by District Commander Chief Superintendent Henry Irvine following a public consultation.
The recommendation, if approved by the Police Service Senior Executive Team, will be taken to the Northern Ireland Policing Board by Assistant Chief Constable Dave Jones for the Board's information and decision on disposal.
Despite the news, Policing Board member Jonathan Craig says he is confident the senior command will overturn the decision. He said: "While the District Commander has said there is no operational reason for the station to stay open, there are huge community issues which have not been taken into account. I firmly believe a strong argument can be made to keep it open and this decision will be overturned."
Chief Superintendent Irvine told Lisburn District Policing Partnership (DPP) of his decision on Monday. He said: "As part of the review I have had to look very closely at all of the stations in my District, to ensure we are using all of our resources, including buildings, in the most effective and efficient way to ensure we provide the best possible personal, professional and protective policing service to the people of the Lisburn Area.
'As a result of this review, during which a range of views were canvassed, it was established that Hillsborough police station is underutilized by the public and its continuance is not an operational requirement."
He continued: "In Northern Ireland we have a pattern of police stations unlike any other part of the United Kingdom. The current police estate remains 70% bigger in comparison to other UK police services of comparable size. It reflects the demands of a very different era in policing.
"Recent restructuring across the police service has delivered an additional 57 police officers to duties in D District, 25 of these serve the greater Lisburn area. Our Neighbourhood Policing Teams are working with their local communities, identifying and working to resolve the issues which matter the most to local people. This will remain unchanged."
Chief Superintendent Irvine added: "My command team and I are committed to listening to people in the communities we serve. I assure you that a decision to recommend the closure of a station is not taken lightly. I can understand that some may take comfort in having a police station nearby. However, modern policing is about people, not buildings.
"I want to reassure the public that any reduction in the police estate does not equate with a reduction in service. We will continue to work in partnership with local people to develop and implement innovative and flexible policing initiatives, which will bring policing right to the heart of communities when and where it is needed."
But the Chairman of Lisburn DPP, Councillor Margaret Tolerton, said: "I'm totally opposed to Hillsborough PSNI station closure as I feel this proposed closure, if it goes ahead, will leave a large rural area without adequate police cover. If a major incident occurs in Dromara area PSNI officers would have to travel from Moira. This would be appalling for community confidence and people who already feel vulnerable would feel even more so."
Downshire Councillor Alderman Allan Ewart also said he was disappointed.
"Following many meetings, petitions and letters from the local people during the consultation period it appears that what was said was not taken on board by the authorities. In the last few years over £400,000 was spent on the Hillsborough Police Station, this has been a waste of money.
It is also the seat of Royalty for Northern Ireland so I would have thought that should have been taken on board. The Downshire Ward will now be serviced from Moira. Some years ago when Dromara Police Station was closed the PSNI informed us that Hillsborough would be close at hand but now this has changed. In a few years time will we see Moira closing next? It is now up to the PSNI to make sure that the Downshire Ward is fully policed and make sure that the residents will feel safe in their homes."
Ulster Star
16/03/2012