Community reps join DPP to launch stations' petition
by JENNY MONROE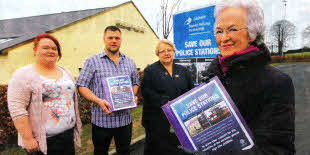 Councillor Margaret Tolerton launches the petition to save Hillsborough Police Station from closure along with: (front) Mrs. Heather King, Community Police Liaison Committee; (l-r) Miss Laura Kerr, Hillsborough Village Centre Attendant and Mr David Dunlop, Community Police Liaison Committee.
Councillor Margaret Tolerton, Chairperson of Lisburn DPP is joined at Kilmakee Activity Centre by members of the Dales Community Association to launch the petition to save Dunmurry Police Station from closure.
LISBURN District Policing Partnership has been joined by community representatives to officially launch a petition to show support for retaining Dunmurry and Hillsborough police stations.
Councillor Margaret Tolerton, Chairperson of the Lisburn DPP, speaking at the Hillsborough Village Centre and Kilmakee Activity Centre where she launched the petition, said: "I have given a commitment to theeople of this City that we will try our best to keep both of these stations operational, and this petition is being launched to lend weight to that cause.
"We are asking that you support the petition by signing it to illustrate that these police stations are important both from an operational policing perspective and having a visible presence in your community.
"If you would like to sign the petition it is available at Hillsborough Village Centre, Kilmakee Activity Centre, Lagan Valley Island, Hillsborough Tourist Information Centre and Lagan Valley LeisurePlex You can also show your support through the online petition on www.lisburncity.gov.uk, the Council's website," she concluded.
If you wish to help with getting signatures for the petitions please contact the DPP Manager 028 9250 9279.
Equally if you have any views on this issue please you can get in contact, either by phone, or in writing to the Lisburn DPP at Lisburn City Council, Island Civic Centre, 1 The Island, Lisburn, BT27 4RL or by emailing dpp@lisburn.gov.uk.
Make your views heard on stations' future says police chief
LISBURN police chief is urging local people to take part in a six week public consultation process on the future of the PSNI stations in Dunmurry and Hillsborough.
Chief Inspector Darrin Jones said: "A final decision has not been made on the future of either station and I would encourage people to use this consultation to make their feelings known."
He continued: "People will be aware that we have been carrying out a major review of police buildings in D District. As part of that review I have had to look very closely at all of the stations in my area, including Dunmurry and Hillsborough, to ensure we are using all of our resources in the most effective and. efficient way to ensure we provide the best possible personal, professional and protective policing service to local people.
"In Northern Ireland we have a pattern of police stations unlike any other part of the United Kingdom. The current police estate remains 70% bigger in comparison to other UK police services of comparable size. It reflects the demands of a very different era in policing:
"Our aim is that policing should be a part of the local community. However, underused buildings will not achieve this - investment in police officers and staff working in the local community will."
The Chief Inspector said recent restructuring across the police service has delivered an additional 57 police officers to front-line duties in D District, 25 of them serving in the greater Lisburn area.
"Our Neighbourhood Policing Teams are working their local communities, identifying and working to resolve the issues which matter most to local people" he said.
"Overall levels of reported crime in Northern Ireland are at a 12-year low. This reduction has been delivered by the public working in partnership with police officers, not by police buildings.
"The public are increasingly engaging with police in different ways - from one reporting of non-emergency and hate crime, contacting local Neighbourhood Policing Teams directly through telephone numbers provided on our website or via Facebook.
"As a result of people increasingly using these alternative means to interact with police, fewer people are visiting or using police stations."
Mr Jones said the introduction of BlackBerry smartphones - which have now been distributed to over 4,000 frontline police officers - has also reduced the need for officers to return to a police station to complete administrative tasks. "This has already increased the amount of patrol time per officer per shift by over 15%, that's an extra hour per officer, per shift is spent on the street, in the community they serve" he said.
As with all other UK police services and publicly funded bodies, the PSNI has undertaken to deliver £135 million in efficiency savings back to the government over the next four years. As part of our agreed plan to deliver these savings, which was previously submitted to the Northern Ireland Policing Board, we must deliver a £2.2 million saving in the estate baseline budget in order to protect frontline staff and services. This means we cannot continue to fund the current size of our police estate," he said.
"My team and I are committed to listening to people in the communities we serve. I assure you that a decision to recommend the closure of a station is not taken lightly. I can understand that some .may take comfort in having a police station nearby. However, modern policing is about people, not buildings, the Chief Inspector concluded.
Ulster Star
27/01/2012