FREEDOM BID A 'POLITICAL FOOTBALL'
Proposal to give Orange Order freedom of the city is withdrawn
Mayor expresses disappointment
by JENNY MONROE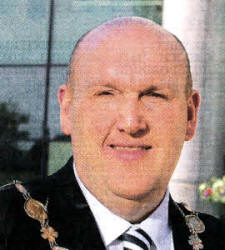 Mayor William Leathem
A MOTION to give the freedom of Lisburn to the Orange Order has been withdrawn. The proposal to grant the Freedom of the City to the Loyal Orange Institution in recognition of its 'significant contribution to society' was brought to Lisburn City Council in August
Speaking at Tuesday night's monthly meeting of the council, DUP Mayor William Leathem proposed to withdraw the motion. He said: I am very disappointed that other political parties after meeting with me have now reneged on a decision which they were supportive of; and turned this into a political decision instead of a civic one.
"It is with regret that I am now proposing to withdraw the recommendation to award the Freedom of the City to the Loyal Orange Institution as the smaller political parties within Lisburn City Council have used this proposal as a 'political' football' and this was never what I or my party wished."
Mr Leathem continued: "Prior to taking the request to full council I met with a representative of each of the political parties that constitute the Elected Members of Lisburn City Council. This approach was taken as it was never my desire to try and influence anyone's viewpoint and the decision was to be a fair one and not a political decision.
"At the meetings with the other political parties - UUP, SDLP, Alliance and Sinn Fein I discussed the option of awarding the Freedom of the City to the Orange Institution. From the start it has always been my intention and that of my party, the DUP, to ensure that this decision was taken with equality. It has always been my intention that an Equality Impact Assessment would be undertaken to determine the unbiased public opinion on this proposal - may I highlight that never before has such an exercise been undertaken for the Freedom of Lisburn City.
"Myself and the DUP were prepared to go the extra lengths to ensure that the decision to award the Freedom of the City to the Orange Institution was the correct one."
Mr Leathem said that it is "saddening that when so many people in both communities can support the Orange Order through its halls, which host craft classes, youth projects, social economy projects, concerts, sporting organisations and young farmers clubs; to name a few that it cannot be rightly acknowledged by all of Lisburn City Council's Elected Members".
He concluded: "To protect the Loyal Orange Institution from the 'political football game' I believe it is best to withdraw this proposal. This is a great shame as approximately 5,700 organisations use Orange Halls throughout Northern Ireland and the Republic of Ireland; and this includes cross-community groups."
Alliance Party councillor Brian Doman said the plan could not be justified.
"I welcome the decision to withdraw this proposal. I believe the suggestion to grant the freedom of the City of Lisburn to the Orange Order was just not justifiable," he said.
"The Orange Order does not have cross community support, so I do not think it would have been correct to have granted it with such a high civic honour. When so many families are finding it hard to get through this difficult economic period we should not be dealing with issues such as this.
"We were consulted about this issue in confidence in May this year and we made it clear that we believed it was inappropriate and divisive and so would oppose it. We have been consistent in our opposition to it and I am glad that it is not going any further."
SDLP Lisburn Councillor Brian Heading described it as a sensible step and called on parties to work towards easing community tensions.
Mr Heading said: "This is a sensible step and a welcomed one. The Orange Order does not garner the support and confidence of the majority of a cross community section.
"There were a lot of concerns amongst people in Lisburn and throughout Lagan Valley and many concerned constituents have contacted me to emphasise that the Orange Order is not representative of all the people of Lisburn and therefore should not qualify for such a civic honour. Indeed I have spoken to past members of the Orange Order and they thought it was a retrograde step."
A spokesman for the Orange Order said: "The Grand Orange Lodge of Ireland was honoured to be considered for such a civic award and would like to put on record our gratitude to those councillors who supported the motion. Conversely, we are also disappointed that some elected representatives chose to use the issue as a political football.
"However, the decision to withdraw the proposal to confer the Institution with the Freedom of Lisburn is a matter for the city council."
Ulster Star
28/09/2012