Jobs created as hotel completes extension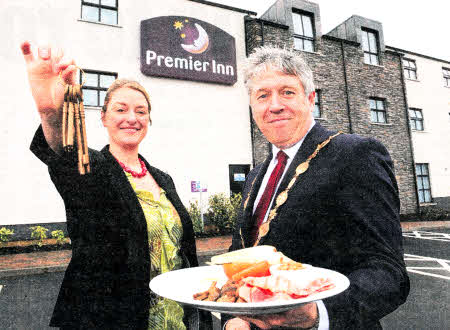 The Mayor, Councillor Brian Heading joins Jill Moore, general manager, Premier Inn Lisburn to celebrate the completion of a £1.5million expansion programme, which has added a further 30 rooms to the Lisburn hotel.
JOBS have been created locally after the Premier Inn recently completed a £1.5 million expansion on its Hillsborough Road site.
The expansion has added 30 new bedrooms to the property, bringing the hotel's total number of rooms to 90 and greatly increasing its ability to cater for large bookings.
The completion of the extension will create eight new jobs; five in housekeeping and three in the hotel's adjoining restaurant, the Linen House Table Table.
Premier Inn Lisburn, which is operated by the UK's largest hotel group, Whitbread PLC, opened in 2 October 2009 and is the only city centre hotel. They say growing demand over the last two years has resulted in an average occupancy rate of 85% and the need for further expansion.
Jill Moore, general manager of the hotel, said the extension will help meet the growing demand for hotel accommodation in Lisburn.
"Since we opened in Lisburn in 2009, Premier Inn has established itself as a leading business in the city" she said. "The additional capacity created by this extension will greatly benefit our business, allowing us to welcome many more visitors in the future, particularly large groups. We're committed to continual investment in our business to ensure our facilities can meet the demands of the people of Lisburn and visitors to the city."
The new extension has been welcomed by the Mayor, Councillor Brian Heading, who said: "When Premier Inn opened in Lisburn in 2009, it greatly added to the infrastructure of the city in both business and tourism terms. This significant investment in the expansion of the hotel is a clear sign of Premier Inn's commitment to Lisburn City and will undoubtedly have a positive economic impact in the area, not least with the welcome creation of new jobs."
Ulster Star
02/03/2012