Queen is congratulated on Diamond Jubilee
by STACEY HEAHEY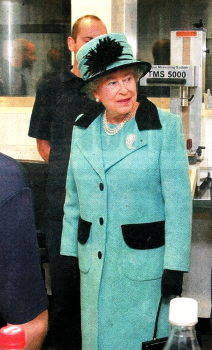 The Queen meets staff during a tour around the Coca-Cola bottling plant in Lisburn before she opened the new visitors' centre during her last visit to Lisburn in October 2010
LISBURN City Council are to send a letter to the Queen congratulating her on her 60 years on the throne.
Monday, February 6, was the 60th anniversary of the Queen's accession, following the death of her father, King George VI in 1952.
The Queen, who usually marks the day privately, instead performed Royal duties in Sandringham as the official launch of the build-up to the Diamond Jubilee celebrations got underway.
Speaking at a meeting on that Monday evening, Alderman Jim Dillon suggested the council send a letter of congratulations on reaching such an important milestone. Mr Dillon said: "I would appreciate it if this council, having had city status bestowed upon us by the Queen, and being an area she has visited many times in these 60 years, send a letter of congratulations to Her Majesty.
"These have been 60 years during which, in my opinion, she has never put a foot wrong."
The proposal was seconded by Councillor Alan Carlisle and was accepted by members.
• To mark the Diamond Jubilee, the Ulster Star would like to hear your memories of the Queen. Have you met her on a local visit? Did you have a special word with her? Were you invited to Buckingham Palace for an occasion, to receive a Birthday or New Year Honour, or were you invited to the annual Garden Party? Have you been a Royal follower throughout Her Majesty's reign, watching from her Coronation until now? Will you be attending the Diamond Jubilee celebrations in London this summer or organising something locally? Email us at news@ulsterstar.co.uk, write to us at 12a Bow Street, Lisburn, BT28 1BN or telephone 92679111 with details or contact us through Twitter@LisburnStar.
stacey.heaney@ulsterstar.co.uk
Ulster Star
17/02/2012