Queen tribute act to celebrate Diamond Jubilee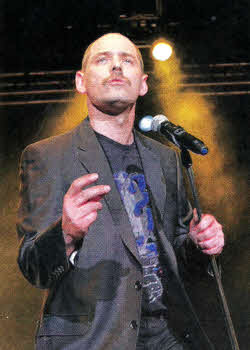 Flash Harry
PREPARATIONS are well underway as Lisburn gets ready to celebrate the Queen's Diamond Jubilee at the beginning of June.
This week it was revealed that Lisburn City Council would be hosting a concert and fireworks display in Wallace Park on Monday June 4.
Renowned Queen tribute act, Flash Harry, will be taking to the stage to help celebrate the momentous occasion.
It has also been revealed that 33 grants have so far been awarded by Lisburn City Council to community groups in the area to enable them to hold their own celebrations in June. Plans for the Jubilee anniversary include street parties, tea dances, fun days and commemorative services.
Speaking at a recent meeting of Lisburn City Council, Deputy Mayor Alderman William Leathem said he was delighted that so many groups would be helping to mark the occasion.
"We put extra resources in to help celebrate this milestone anniversary and it is tremendous for Lisburn that the Council can support so many groups," he said.
"There are a wide variety of events being held and there is something for every age being held throughout the community.
I would like to express my sincere appreciation to all groups and communities willing to organise events," he added.
Mr Leathem also proposed that the Council write to thy Queen to congratulate her on her anniversary and thank her for her 60 years of Service.
His proposal was seconded by Alderman Paul Porter, who added: "This is an opportunity to come together and celebrate the glorious history of Her Majesty's service."
---
A WIDE range of events are being planned throughout Lisburn to celebrate the Queen's Diamond Jubilee in June.
Beechland Community Group - A lunch with music at Sarah Crothers Hall
Brookmount Cultural and Education Society - An afternoon tea dance, as well as an evening party at Lowquarter Orange Hall
Dales Community Association - Street party and barbecue in the grounds of the Dales
Derriaghy Village Community Association - Fun Day and barbecue at the Youth Centre
Dromara True Blues LOL 12 - Entertainment in the Dromara square, as well as a church service and parade
Drumbeg & District Residents Association -Afternoon get-together with music and entertainment in St Patrick's Church Hall, Drumbeg
Drumlough Community Association - Children's sports evening and picnic at the park behind Rockview
Dunmurry Community Association - 1953-style celebration festival with storytelling, food and dancing at Fullerton Park
Fourscore LOL 340 - Two days of events including fun day, barbecue, religious service and bonfire
Halftown Residents Association - Street party at Coronation Gardens
Hallidays Bridge Cultural Society - Sausage sizzle and celebration dance with live music at Halliday's Bridge Orange Hall
Hasleys Town Cultural Society - Family fun day, barbecue and entertainment at Broomhedge Orange Hall
Hilden Community Association - Street party and gala day
Hillhall Cultural Society - Celebration evening with children in period costume, tea dance with music from the 50s and 60s
Hillhall Regeneration Group - Street party gala
Hillsborough Old Guard - A Feast at the Fort', an afternoon of music, dance and song, including children's entertainment
Hillsborough Working Together - Hooley following 'Banner on a Dander' parade through the village
Knockmore Community Association - Street party and family fun day
Larchfield Community Development - Street party barbecue including dance in the hall
Lisburn North Community Association - Celebration party for senior citizens, food, music, games and tree planting at Drumard Community Centre
Lisburn Temperance Junior LOL 100 -.Children's fun day with bouncy castles, food and entertainment at Robert Watson Memorial Hall
Magheragall Parish Church - Diamond Jubilee celebration lunch
North Lisburn Community Investment - Community Fun Day at Ballymacash Football Club
Old Manor House Social Committee - Day of celebration, including lunch and entertainment
Old Warren Community Association - Street party with refreshments and an educational talk on the royal family
Royal British Legion - Saturday dance and refreshments
St Patrick'sYouth Club - Children's talent show followed by disco and buffet
Sarah Crothers Senior Citizens Centre - Dance and tea for senior citizens
Seymour Hill and Conway Community Network - Street party with barbecue, entertainment and bouncy castles
Stoneyford Jubilee Committee - Celebration day including history lesson for children, old fashioned games, tea party, bouncy castle and barbecue
Tonagh Neighbourhood Initiative - Party based on countries from the Commonwealth
Trinity Community Initiatives - Street part, including Jubilee lunch and family fun day at Trinity Methodist Community Venue
---
Schools invited to write for the Queen
SCHOOL children in Lisburn are being asked to help celebrate the Queen's Diamond Jubilee by writing a very special life story - about a tree.
Creative children will have just 60 words to describe what life may have been for a tree over the past 60 years, or what it can expect from the next.
The Woodland Trust will crown two national winners and their stories will be presented to the Queen. The winning schools will also receive a literary master class with guest judge and best-selling author William Fiennes.
The competition is part of the Woodland Trust 'Jubilee woods' project which aims to involve project of people throughout the UK in planting 6 million trees by the end of 2012.
Graham Blight, from the Woodland Trust, said: "This competition brings together literacy with history to engage schools and children in the wonders of woodland, inspired by this momentous Diamond Jubilee year." Final entries from schools must be received by April 30 and the winners will be announced in time for the jubilee celebration. Further details can be found by visiting www.jubileewoods.org.uk/writing-competition
julieann.spence@ulsterstar.co.uk
Ulster Star
27/04/2012