Dazzling exhibition of Queen's gowns marks the Diamond Jubilee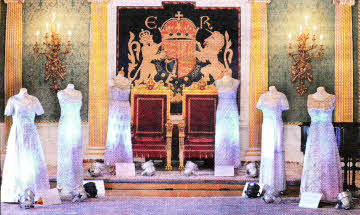 The glamorous evening gowns in white, champagne and gold encrusted in crystals chosen in celebration of the Diamond Jubilee have been designed by Norman Hartnell, a favourite Designer of Her Majesty, and worn by The Queen between the late 1960's and 1979.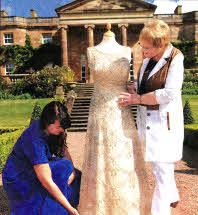 Local dress designer Lizzie Agnew and Patsy Browne, Embroiders Guild NI admire one of the Queen's Dresses, worn by Her Majesty at the State Opening of Parliament in 1979, on display at Hillsborough Castle.
A NUMBER of spectacular gowns worn by the Queen it formal state occasions have gone on display in the Throne Room at Hillsborough Castle to mark the Diamond Jubilee.
Following on from the successful exhibition of the Queen's hats last year, the Dress Collection, normally housed in Buckingham Palace, will be displayed in Hillsborough Castle, Her Majesty's official residence in Northern Ireland until August 31.
Six examples from the Queen's stunning formal wardrobe have gone on display. Many of the designs are from the 1970s but remain timelessly elegant, One of the gowns, a white, short-sleeved, scoop-necked crepe piece with vertical lines of crystal and seed pearls, was worn by Her Majesty in 1977 at the State Opening of Parliament in Canberra, Australia.
But the star is a sleeveless, round-necked satin gown in gold beads with chandelier detail worn by the Queen at the State Opening of Parliament in 1979.
It was designed by one of the Queen's favourite couturiers, Norman Hartnell, shortly before he died in the same year and is believed to be one of his last creations.
Local dress designer Lizzie Agnew was among one of the first to admire the collection.
"Pictures don't do these dresses justice," she said. "You just cannot appreciate the amount of work that goes into these gowns without seeing them up close.
"My favourite is the one she wore to the opening of Parliament in 1979. The shapes are very simple, the Queen's style is known for its simplicity, but embellished. You know, she is the Queen — when one attends a state occasion one needs to stand out and sparkle!
Her presence needs to be felt, she needs to sparkle and look like a queen."
The gowns are noticeably neutral in colour. Lizzie suggested that, given how Her Majesty enjoys wearing colour — as shown by the periwinkle blue dress she wore in Fermanagh on her recent visit to Northern Ireland — the neutral colours may be to avoid clashes with any insignia she decides to wear.
Welcoming the display to Hillsborough Castle the Secretary of State Owen Paterson said: "In this special Diamond Jubilee Year, it is a great privilege to display a number of. Her Majesty's glamorous gowns for the public touring Hillsborough Castle to admire during the month of August.
"Visitors will also have the opportunity to view other exclusive permanent Jubilee exhibits including two specially commissioned paintings of Hillsborough Castle, a Bronze Bust by Alexander Stoddart of'Ossian' the legendary Scottish-Irish bard and the new Jubilee Garden."
All tours must be booked in advance by ringing 028 92682244 or 028 92689406. Opening hours are Monday to Friday, tours commencing at 2pm and 3.30pm. Saturday 10.30am — 4pm.
Ulster Star
10/08/2012