Local man shares his memories of the Queen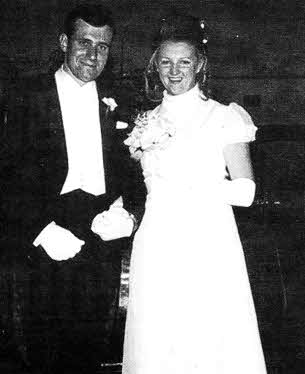 Ray Spence in 1970 in Australia at a debutante ball at which the Queen was present.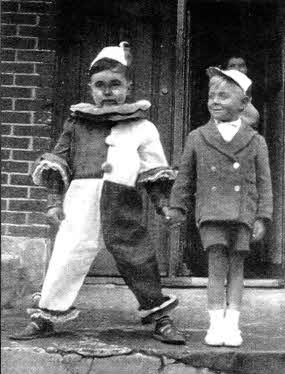 Ray Spence in 1953 celebrating the Queen's Coronation dressed as a clown.
A LOCAL man has kindly shared his memories of the Queen who is celebrating her Diamond anniversary on the throne.
Ray Spence who now lives in Lisburn can remember the coronation in 1953 when there was a street party and he was dressed as a clown. He first met the Queen were in 1956 when she visited Brighton and came to his school. "All I can remember is this lovely lady asking our teacher about what we were doing, I next saw her in 1970, when I was living in Sydney Australia. At the time I was in the New South Wales Police and I was detailed to look after the Queen and the Duke of Edinburgh as they were staying at Government House on her state visit during the 200th anniversary of the founding of Australia. I was introduced to her and the Duke. During her visit she was present at a debutante's ball and I was partnering a young girl who was being presented to her - what a great evening, I was so proud."
The next time Ray saw the Queen was in 1977 after he joined the Army and the Queen was visiting the Army at Sennelager. Then in 1981 he was at Mansion House for the Lord Mayor's banquet, on duty as a military policeman. Ray commented: "I was based in London and during my three years there saw her on numerous occasions both at Buckingham Palace and also at Horse Guards/Home Office I was detailed to look after the Royal family both at the Remembrance parades and also during the trooping of the colour. Then in 2002, I was invited to Buckingham Palace with a colleague of mine from St John Ambulance to receive the Golden Jubilee Award for services to charity - our division HQ Transport which is based in Knockbracken Healthcare Park had been nominated for the award and we were the only charity from Northern Ireland to be asked to Buckingham Palace to receive personally from the Queen. It was a privilege to receive the award from her and I shall treasure it for the rest of my life."
Ulster Star
08/06/2012