A day to remember - in more ways than one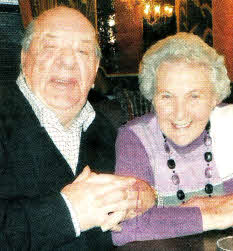 Raymond and Janet Price
WHAT a tale retired farmer Raymond Price would have to tell the Queen on Royal Jubilee Day on June 5.
For a start just as Her Majesty was being crowned in Westminster Abbey as Elizabeth II on that Royal day 60 years ago, he and his bride Janet Stirling were being married in Parkgate Presbyterian Church.
'And as we walked down the aisle hand in hand our thoughts did turn for a moment to our new young ruler in that long procession in the Abbey," said Raymond of Loanends near Dundrod.
"I'm sure the Queen would enjoy hearing how I got the money to buy Janet her engagement ring," Raymond goes on.
He sold a pig at Ballyclare Market for 55 guineas. And then he plucked up the courage to propose after two years of a courtship. And when she agreed to be Mrs Price he took her to Belfast at Christmas 1950 and bought the ring at a jewellers on the Shankill Road.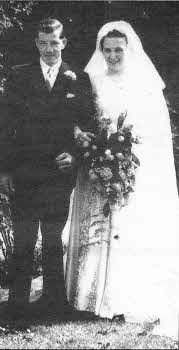 Raymond and Janet on their wedding day
Raymond, who will be 83 on June 21 and Janet who will be 85 the day before, have been married ever since that famous Coronation Day 1953 - and have never had a cross word. They first set eyes on one another at a tea dance organised by Rathmore Young Farmers in 1947. He invited her to join him in a slow waltz - and fell in love.
They met up again in a quickstep and a foxtrot at a dance in Ballyclare town hall two weeks later and he gave her a lift home in his Austin 10.
The wedding ceremony was in Parkgate Presbyterian Church - now 1st Donegore - with the Rev William Bruce helping them to take their vows.
"We knew it would last forever," added Raymond. "What we didn't know when we picked the date for the wedding was that it would be Queen Elizabeth's big day too."
The bridesmaid was the late Maureen Price. June Price (now McComb) and Margaret Stirling (now McKinstry) were flowergirls.
The couple spent their honeymoon in the Isle of Man where the TT motor bike races were the main attraction that week.
Raymond and Janet, who have lived in the same house at Loanends - the one in which Raymond was born - all their married lives, have seven children - four boys and three girls - 12 grandchildren and 17 great grandchildren, including Katie Rosemary who is just three weeks.
And the family will be gathered together for a celebration on Sunday June 3 in the Hilton Hotel at Templepatrick.
Sons Brian, Ray and Colin Price will be there along with their sisters Janette McAuley and Christine Reeves to toast their mum and dad, but two other members of the clan Stephen Price and Marreta Bane are in Australia and can't make it home.
Ulster Star
25/05/2012