Life on ocean waves for Rebecca
by STACEY HEANEY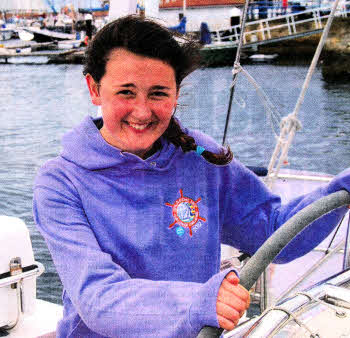 Rebecca Baird aboard a Challenger yacht.
LOCAL girl Rebecca Baird now has her 'sea-legs' after taking part in a special Challenger Yacht voyage with Guiding.
Rebecca, 16, from Lisburn, was part of an all-girl crew of Guiding members from across the UK riding the seas in a spectacular trip co-ordinated by the Tall Ships Youth Trust.
The seven-day leg saw Rebecca, who is a member of Girlguiding Ulster's Senior Section, travel between Hartlepool and Holland before heading to Portsmouth. The yacht was part of a fleet of four, all chartered by Girlguiding North East England to give girls and young women the chance to experience life on the ocean.
While taking part in the voyage, Rebecca had the opportunity to learn a range of new skills such as hauling ropes, hoisting sails up the 95ft mast, helming the 48 tonne yacht, navigation, night sailing and taking part in the ships daily 'watch.
The experience was also great for teambuilding as every activity on the 72ft vessel takes at least two people to complete. The Challenger racing yachts are owned by the Tall Ships Youth Trust and have all been used in round the world yacht races.
Rebecca said: "The highlight was making new friends and having masses of fun with them, especially Port Watch. I also loved actually sailing the boat. I think I'll sail more at home when I can and I'll definitely take part in more guiding opportunities."
On their return, the crew were met by Chief Guide Gill Slocombe, Girlguiding North East England Chief Commissioner Hilary Cooper and Girlguiding South West England Chief Commissioner Solange Rebours.
Hilary said: "Girlguiding North East England was keen to extend the opportunity for adventure of other members of Girlguiding UK and we are delighted that we have four girl-only crews taking part in this international sailing event.
"I am sure that all girls will face new challenges and come back proud of all they have achieved."
stacey.heaney@ulsterstar.co.uk
Ulster Star
10/08/2012