Do you need some help finding a war grave?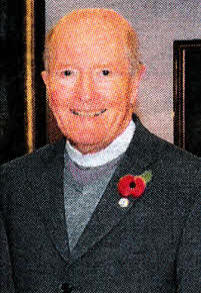 Rev Canon Alex Cheevers
A CLERGYMAN is turning 'battlefield detective'.
Rev Canon Alex Cheevers is offering help to local people who are searching for graves of relatives killed during the World Wars.
"Many people in Northern Ireland have a relative who died in one of the two great wars of the twentieth century," explained Rev Cheevers. 'And for many of us, the older members of our families who knew the details of these men's final resting place have now died. Years ago, when we were younger and had the opportunity of asking them questions about our relatives who died in the war, we didn't have the interest. And now today when we do have the interest, those who knew those details have gone.
For over thirty years I have been going to the battlefields of Europe and for the last nine years I have been organizing and leading tours to the battlefields. I am a member of the International Guild of Battlefield Guides. In this context an amazing number of people ask me if I could trace for them a dead relatives war grave.
"If I can be of any help to anyone reading this who is searching for the grave of someone killed in the wars - please give me a ring. There will be no fee. No charges. No small print. No snags. It would be just part of my tribute to those who served - and those who never returned. Mind you there is also no guarantee that I will be able to trace the grave. But I will certainly give it my best try.
"All I would need from you is whatever information you know. Ideally full name, Regiment served in and year of death. But we don't live in an ideal world and I have often been able to trace a grave when very little information was available. If I can be of help give me a ring," he added.
Rev Cheevers can be contacted on 028 9269 0701.
Ulster Star
24/08/2012