Life of 'true gentleman' fondly remembered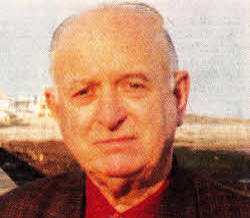 Richard Watson
A SERVICE of thanksgiving was held on Tuesday September 4 at Magheragall Parish Church for the life of Richard Watson.
Born in Kilcorig Road, Magheragall on September 29, 1926, Richard was an electrician by trade. He married his wife Noreen in 1954 and they went onto have a daughter Lynda and son Ken, as well as six grandchildren.
The family lived in the Killeaton area for many years and were members of Seymour Hill Methodist Church for over forty years, where Richard was a member of the men's fellowship group.
He spent most of his working life in Shorts, before retiring in 1992. He had a great interest in planes, as well as in gardening. He was a lifelong member of Lowquarters LOL 187 for nearly seventy years and had served as Past Master, Lecturer and Chaplain of the Lodge for many years.
He held office in Magheragall District Lodge, as former District Secretary and former District Chaplain until he retired in 2012 due to ill health.
As a member of the Royal Arch Purple Chapter in Magheragall, he held several offices, including County Grand Master of Antrim from 1981-1984 and in total he gave 15 years of services in various County office positions.
From 1984-2010 he held the position of Deputy Grand Master of Ireland within the Grand Arch Purple Chapter of Ireland and was a lifelong member of Brookhill Royal Black Preceptory 579, where he served as Past Master and Lecturer.
Richard was a founding member in 1992 of the Lagan Valley Credit Union and was Board Secretary from 1992-2010. He was a weekly collector from 1992-1995 in Ballinderry and from 1995-2009 he was a weekly collector in Lisburn Orange Hall. He was also a rep to the County Antrim zone of the Credit Union from 1997-2009.
He was also a founding member of Brookmount Cultural and Historical Society, which is based in Lowquarter Orange H He was the foundation secretary, as well as Vice Chair and Chair until he retired from the committee in 2010.
He was a founding member of Brookmount Senior Citizens group and was on the committee until 2010, holding the position of Treasurer when he retired.
Richard helped to organise weekly tea dances in Lowquarter Orange Hall, as well as dance classes. Whilst not able to dance himself due to his health, he still took great pleasure in being able to watch other people learning to dance.
Richard, who will be remembered as a true gentleman and a dedicated community worker, will be sadly missed by his friends and the local community but most importantly by his family.
Ulster Star
07/09/2012