Three generations of one family set to compete at Crufts
by STACEY HEANEY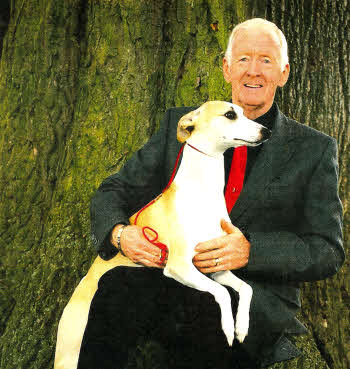 Albert Ritchie with Leo.
THREE generations of one family are among those who will represent the local area at Crufts next weekend.
A number of local people are hoping they will be 'top dog' at the show at the Birmingham NEC from March 8-11, when they will hope to walk away with a prize or even scoop the prestigious 'Best in
Show'.
Over 21,000 dogs from all around the UK and overseas are warming up to take their place at this year's show.
As well as the Best in Show final, dogs and owners will also be competing in a variety of competitions including the International Agility Championship and the popular Friends for Life contest, full of heart-warming stories of friendship in adversity, where dogs have truly earned
the title of man's best friend through bravery, support or companionship. This year the show will once again be televised on More4, with two and a half hours of coverage every night.
Albert Ritchie from Moira is a regular visitor to Crufts, having been to the show "many times".
Danielle Ritchie-Smith with Phoebe.
This year, however, will be extra special as Albert will be joined by his daughter Diane and granddaughter Danielle, meaning three generations of the local family will be present during the ultimate weekend for those involved in the dog show world.
Albert and Danielle will both be showing Whippet's, with Albert showing Leo, Demerlay Vanilla Sky Over Gwendariff JW, a Junior English Champion, while Danielle will show his daughter, Phoebe, Gwendariff The Charmed One.
Both dogs will compete in their breed category, while Danielle has qualified for the Young Kennel Club Handling Class and the Young Kennel Club Stakes, which will assess both Danielle's handling and the dog.
Danielle, aged 11, is a pupil at Moira Primary School and Albert said it will be a' special weekend" for the family.
Albert added: "Leo has previously received a reserve champion certificate, so we are looking forward to something big with this guy. We are looking forward to Crufts."
As well as Albert and Danielle, Albert's daughter Diane Stewart-Ritchie, Danielle's aunt, will be showing her Irish Setter's.
Diane has been the top Irish Setter breeder in the UK for the past seven years, and has previously received CC's at Crufts for the best male/female in the breed.
Diane will be bringing three dogs, a four-year-old Irish Setter Peaches, Gwendariff Fizzy Pop, three-year-old Irish Setter Elvis, Gwendariff Whata Corker, as well as a 10-month-old Hungarian Vizsla puppy Albert.
Both Setter's are from a distinguished background and they have both already received a CC, with three needed to become a champion.
"Both of them are young so we will just enjoy the day" said Diane.
"Crufts is great," Diane added. "It's a great social thing. It is world famous and allows you to meet people from all over the world, for those who show dogs it's our favourite weekend."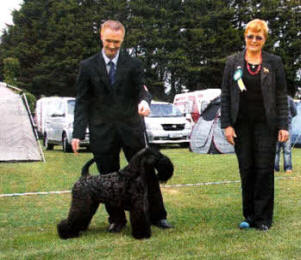 Mark with Coby and the judge at a recent win In Dublin.
Dunmurry man Mark Cushnahan is hoping for success with his two-year-old Kerry Blue Terrier Coby.
This will be Coby's first visit to Crufts, however, Mark has been to the show before and is looking forward to visiting once again with his father and uncle.
Coby, show name Cushlagrom Drew Brees, was home bred by Mark and his family in Dunmurry, as was his mother. His father was a very successful Kerry Blue who was crowned World Champion in 2010.
Mark said: "He has never competed in Crufts before but did qualify when competing in his very first show at six months old. His younger sister Lexie also qualified this year, again at her debut show aged six months, and we hope she will be mature enough to compete next year.
I have been to Crufts once before and I love the atmosphere, it is a very special place and it will be nice to be competing there this year. I intend to travel over with my Dad and my Uncle and we are really looking forward to it as we have been putting in the long hours of grooming and preparation in anticipation of the big day.
"Coby has been very successful in the short time he has been in the show ring, he has two Greenstars, he needs seven to be crowned Irish Champion. His first was gained at the most prestigious Dublin Kerry Blue Show, where he was crowned Top Dog and then Reserve Best in Show. We hope this success continues in 2012."
stacey.heaney@ulsterstar.co.uk
Ulster Star
02/03/2012