Rural thieves steal school's oil supply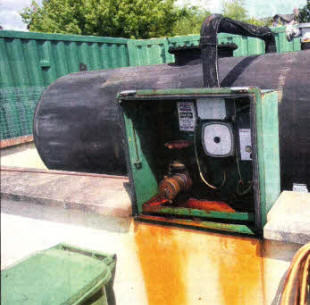 Riverdale Primary School from where the oil was stolen.
A PRIMARY school has become the latest target of oil thieves in rural areas around Lisburn.
The principal of Riverdale PS, Trevor Carruthers, spoke of his 'grave disappointment' after 3,000 litres of heating oil was stolen from the school over the weekend.
Mr. Carruthers said that the oil which was worth £2,300, was taken from the Ballynahinch Road school sometime between Friday and Sunday.
A member of staff was driving past on Sunday and noticed the gates, which are normally locked and bolted, open. The principal was contacted and he with the caretaker went to check and found the lock and bolt smashed and their oil tank.
Mr. Carruthers said they would not be getting a refill until after the summer holiday when they will have implemented tighter security measures.
The tank had only been filled last week and it was expected to do the school until well into next term, possibly until Christmas.
It would have taken a large container or vehicle to empty the tank and the thieves would have been in the grounds for at least half an hour.
"We have heard of these types of thefts at other schools, homes and even churches but not here" Mr Carruthers said. "This comes at a time when the education system faces economic hardship and every penny should be spent on the children.
"Thankfully we are in a dry spell and we're not relying on heating but we will definitely look at our security before we think about filling the tank again."
Local MLA Edwin Poots appealed to the public to help catch the thieves.
He said that Ballycarrickmaddy and Carr Primary had both had oil earlier this year and many churches, community centres and homes have also been hit. "I personally lost 1500 litres six or seven years ago so I know what it is like," he said. "What I needed to do was to step up security and make the place more secure.
I am concerned about the increasing number of these thefts. Oil is a high value commodity which is attractive to the thieves.
"I would like to know what action the police have been taking and I would urge everyone to look out for their neighbours. If you see anything suspicious at a school, a church or someone's house ring the police.
Ulster Star
01/06/2012