Local couple on their marks for key roles in London Olympics
by STACEY HEANEY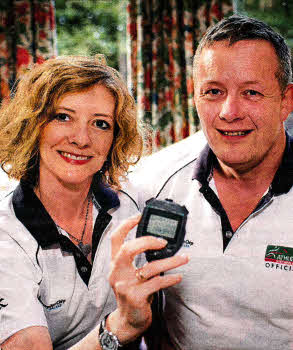 Robin and Joyce Mack, from Maze, getting their stopwatches ready before heading off to London to officiate in the athletics of the Olympic Games. US2712.517cd
A MAZE couple will be playing a major part in this summer's Olympic Games in London after they were selected as officials for the ultimate sporting event.
Robin Mack, who has over 30 years experience as an official, will take on duties as a field official at London 2012, overseeing events such as the long jump, high jump and javelin, where he will see Britain's great medal hope Jessica Ennis go for gold.
Meanwhile, Robins wife Joyce will be a call room steward, where she could be leading the likes of Usain Bolt and Asafa Powell out onto the track where they will meet their sporting destiny.
The couple will travel to London on July 31 and they will work at both the Olympic and Paralympic Games, taking in the official closing ceremony of the Olympics, whilst they also hope to be able to enjoy watching some sport during their time at the Games.
Speaking about his involvement in London 2012, Robin said: "I started officiating quite young when I would help my dad out, bringing shots back and that sort of thing. My dad, Albert, competed for Ireland many years ago, so I've always been involved with sport.
"There used to be major events at the Mary Peters track with the likes of Steve Cram and Steve Oven that I would work at."
Robin, who competed for Lisnagarvey before solely taking on an officiating role, had to go through a series of assessments to be selected as a field official for the Olympics with his work at a variety events, including Olympic qualification events, being analysed.
Joyce, meanwhile, who competed in sports at school before getting involved in officiating by going to events with Robin, is a volunteer official at the event.
Robin, who also works with the Church Lads and Church Girls Brigade at St Hilda's, Seymour Hill, said; "I don't know my exact role just yet, I will probably find out the day before, but I will work at
events such as the long jump, vault and javelin. I will probably cover 20 events throughout including the heptathlon and pentathlon, plus warm ups of two to three a day.
Robin added: 'Joyce is working as a call room steward, bringing athletes from the warm up track through the call up procedure, checking spikes and looking for anything illegal and then bringing them out onto the track to hand them over to the likes of myself, so she will see all the big stars as they will all go through that procedure.
"It is amazing, we were in the right place at the right time and in the right country, the Olympics will not be back here in my lifetime.
Excited
"We are excited and very pleased, we're looking forward to it," he said.
Robin's brother is flying home from New Zealand especially for the Olympics, whilst his sister-in-law and her family will also go to watch the athletics at the Games.
"My dad is coming across as well," said Robin, although with his duties he doesn't know how much time he will be able to spend with his family.
Long before knowing they would be officiating at the Olympics, Robin and Joyce have been involved in London 2012 right from the beginning.
Robin explained: "We happened to be in London the day the Olympics were announced so we saw the announcement in Trafalgar Square, which was very enjoyable. We also went and watched the flame when it was here in Lisburn."
Whilst Robin says it is nice to be part of major sporting events with some of the greatest athletes in the world, he says he equally enjoys his work with local boys and girls.
"At the Aviva Trials recently the ladies UK long jump UK record was broken for the jump time in 29 years. Also there were the likes of Jessica Ennis and Mo Farah, I was with Jess Ennis on the long jump, but I was also at a Brigade event at Laurelhill School recently and I got as much enjoyment at that."
However, he added: "I'm really starting to look forward to it."
stacey.heaney@ulsterstar.co.uk
Ulster Star
20/07/2012