Liverpool legend visits Lisburn on marathon challenge
by STACEY HEANEY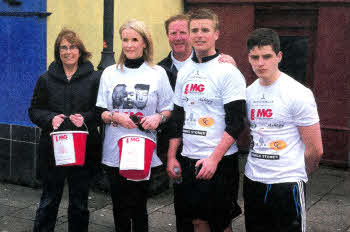 Liverpool legend Ronnie Whelan with, from left, Linda Beattie (MG Sufferer), Jan Beaumont (MGA NI Regional Organiser), Brian Ormond and Rory Keating.
LIVERPOOL: Football Club legend Ronnie Whelan was in the Lisburn area this week as he covered four marathons in four days during a charity walk from Belfast to Dublin to raise funds for Myasthenia Gravis, a severe muscle weakness illness.
The former football star was joined by a host of fellow fundraisers, including RTE TV and radio presenter Brian Ormond, who many local people may remember from his Pop Idol days, as well as Rory Keating, the nephew of Boyzone star Ronan Keating.
The team arrived in the Lisburn area on Monday, day two of the challenge for a cause close to Ronnie's heart.
The Reds' legend is now patron of the Myasthenia Gravis Association in Ireland, but admitted:' I had never heard of Myasthenia Gravis until my daughter, Elizabeth, was diagnosed with this debilitating disease. "It was only when MG touched my immediate family that I found out what it was, so I am really determined now to raise awareness about the disease and help families throughout Ireland.
Through raising funds and awareness we can help those affected by MG." This year's challenge saw Ronnie, his wife Elaine and his walking team leave Belfast on Sunday April 22 taking a route that brought them through Lisburn, Hillsborough, Dromore, Banbridge, Newry, Dundalk, Dunleer, Drogheda, Balbriggan and Swords.
They walked a marathon distance of 26 miles each day for the four days, arriving in Dublin city centre on Wednesday. The team was made up of a small number of walking enthusiasts who will have raised minimum sponsorship of 1,500 euro each.
Ronnie added: "The Myasthenia Gravis Association has been a huge support to my family during Elizabeth's illness, so I am really determined now to raise awareness about MG and help families find out more about its symptoms and effects. I will always be indebted to the MGA and I am proud to serve as the Association's Patron.
"I would urge everyone to find out more about Myasthenia Gravis, and to help the MGA in any
way you can. Through raising funds and awareness, we can help those affected by MG. Ultimately, our support may even help doctors and researchers to find a cure.'
Support may be given to Myasthenia Gravis Association for this event by making a donation on the MGA website www.mga-charity.ie, organising a fundraising event and personally presenting Ronnie with funds raised. Postal donations can be made to MGA, 4 Braemar Park, Bangor, BT20 5HZ.
stacey.heaney@ulsterstar.co.uk
Ulster Star
27/04/2012