ROOFTOP DRAMA
by MARY MAGEE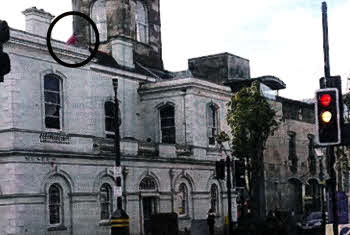 Youths running along the roof of the Lisburn Museum (circled).
THE city's rooftops have become a dangerous 'playground' for reckless youths.
Details of an incident in which teenagers had to be rescued from the roof of the Lisburn Museum have just emerged.
Councillor Paul Porter has warned of the dangers of playing on roofs after emergency services were called to rescue youths from the two storey roof at Lisburn Museum.
Shocked motorists and onlookers stopped to watch the drama unfold as youths were seen walking along the roof while police and fire crews persuaded them to come down from the building around: lunchtime on September 23.
Mr Porter said that the activity was 'not a sport' and has contacted the council asking that the situation be looked into.
"I cannot understand for the life of me why young people feel the need to take part in such an activity," said Mr Porter. "It is not fun or courageous. It is very dangerous.
"Thankfully we are not dealing with a serious fatality or injury but we could have been very easily. It would have just taken one to have slipped. I would encourage anyone not to take part in such an activity.
"Not only was this incident a major drain on vital resources but we need to look at the safety aspect of this. It must stop. I would encourage all young people to act responsibility and refrain from doing this.
"This is not some sort of sport. The fire service had to attend to this when their resources could have been used elsewhere." One fire crew from Lisburn Fire Station and two from Central Fire Station arrived at the scene.
A spokesperson for the fire service said that crews had to use rope and ladders to rescue a17-year-old who was uninjured. They said that the incident was dealt with my 1.36pm.
The NIFRS said that when they were contacted the teenagers were brought down before being spoken to by police.
Police say that there were no arrests although referrals were made to the Youth Division Officer. Police said that they had been contacted about the incident at around 12.40pm.
A spokesperson for Lisburn City Council said, "Lisburn City Council can confirm it has been made aware of an incident on Sunday September 23 when emergency services attended the Irish Linen Centre and Lisburn Museum to assist youths getting down from the building's roof.
Lisburn City Council would discourage climbing on Council-owned buildings or any structures in the Lisburn area. The safety of youths carrying out such a dangerous activity is seriously compromised and it is a drain on the vital resources of the local emergency services. The incident is now a PSNI matter."
Area Commander Chief Inspector Darrin Jones said, "Climbing up onto roofs and other high surfaces is wrought with danger. A young person could easily slip or lose their footing and end up with serious, permanent injuries or worse. There are many great parks and recreational areas and facilities in Lisburn for young people and police would urge them to take advantage and use them instead of getting up to such a foolhardy 'activity."
mary.magee@ulsterstar.co.uk
Ulster Star
05/10/2012