Phone call that helped save Crumlin woman's life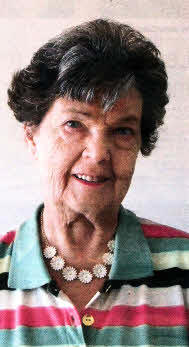 Rosemary Moore
A PHONE call to Action Cancer was one of the best decisions that a Crumlin woman made.
Rosemary Moore (78) of Tromery Drive, believes that simply dialling a few numbers to make an appointment with the charity's Big Bus, that visited Antrim town last year, ultimately helped save her life.
Rosemary, a grandmother of eight was 76 at the time when she was diagnosed with breast cancer. It was detected early and she had only a partial mastectomy followed by courses of radiotherapy.
As her age fell outside the NHS screening programme that invites woman aged from 50 to 70 to make an appointment she decided to ring Action Cancer and make an appointment when the Big Bus visited.
When she was younger Rosemary was regularly screened through the NHS programme until she was 68.
But it was an advertisement in a local newspaper that the Big Bus was coming to town that sparked Rosemary's interest again. She took it upon herself to make an appointment. She had remembered that it had been some time since she had a mammogram and so last May went as a reassurance to herself all was okay.
"Two weeks after my appointment I was notified by letter that I needed to contact Action Cancer; said Rosemary. "I was then advised to make an appointment at the Antrim Area Hospital for further tests and scans. My consultant told me he would phone with the results on Thursday morning."
When Rosemary received no phone call on Thursday morning she feared the worst.
When I hadn't heard anything back from him I just knew it wasn't good news, she said.
She decided to ring on Friday and asked for the results herself. She was told that her consultant would like to see her personally and an appointment was made the following week.
She arrived to see the consultant at Antrim Area Hospital along with her son David, who came with her for some support.
The consultant just stared at David and said 'your mummy has cancer'," she said. "I knew there was something not right but it still came as a big shock.
"I know that some people would be upset by the news but I never shed a tear and I just said that it will have to come away. The doctor told me that I was very lucky because it was got in time and it was very small. He told me 'Rosemary you are so lucky you went for that appointment'. He said that someone was really looking down on me."
It was six weeks before she had the partial mastectomy where the small growth was removed.
"I was told that if it had not been found in time I would have had a full mastectomy," said Rosemary.
After the operation Rosemary recovered using just two painkillers followed by bouts of radiotherapy at the City Hospital.
I had never been to hospital before so going for tests was new to me," said Rosemary.
"I had a partial mastectomy on Tuesday, August 15, at Antrim Area hospital and I have never looked back.
"One month after my surgery I started my five week radiotherapy treatment at Belfast City Hospital. Today, one year later, I feel good and look forward to every day like it's a bonus. I feel so fortunate that I made that phone call to Action Cancer.
"At the time all the consultants told me how lucky I had been at having the early diagnosis. If I hadn't had that screening I don't know at what stage my cancer would have been detected as I had no symptoms and couldn't feel the lump by touch."
Rosemary would advise anyone who is considering to go for a screening appointment, to stop considering and just go for one.
It helped save my life," said Rosemary. "It is a shame that people of my age do not get screened because of their age through the NHS. Yon would think that women still need mammograms for the rest of their lives
"It was a difficult and emotional time for me, but with the help and support from my family I was able to come to terms with it."
Now one year on Rosemary, who has three sons and eight grandchildren, would encourage all woman to make an appointment with Action Cancer.
"Because of my age I fell outside the NHS screening programme but I felt that I would make an appointment through the Big Bus," she said. "I am glad that I did."
Action Cancer is marking its annual Breast Cancer Awareness Month (BCAM) campaign this October. Celebrating its fifth year in partnership with Northern Ireland's largest independent pharmacy chain Gordons Chemists, Action Cancer is encouraging eligible women in Lisburn to come forward for screening.
Action Cancer is the only charity in the UK and Ireland that offers women aged 40-49 and 70+ the opportunity to have a free mammogram, complementing the NHS screening programme which calls women aged 50 - 70.
In the Lisburn area there are 9,000 women aged 40-49 and 6,000 women over 70 that are eligible for Action Cancer's unique screening service. Approximately 1,150 women are diagnosed with, and 300 die from, breast cancer in Northern Ireland every year.
"Since the beginning of my journey I have received the best care and attention possible," said Rosemary. "From my appointment with Action Cancer, the whole medical team on ward C3 in Antrim Area hospital and, of course, the radiotherapy treatment staff at Belfast City hospital. My journey was made a lot easier with the love and support of my family, and the thoughts and prayers of my friends.
I urge anybody like myself who is aged 40-49 or over 70 and doesn't fall into the NHS' screening age range (50-70) to get in touch with Action Cancer. It was one of the best decisions I have ever made."
Anyone interested in obtaining a breast screening appointment should contact Action Cancer on 028 9080 3344, visit www.actioncancer.org, download Action Cancer's BreastAware app or call in to your local Gordons Chemist and fill out a breast screening request form.
Ulster Star
19/10/2012