Olympic torch re-think Salto `snub'
by JENNY MONROE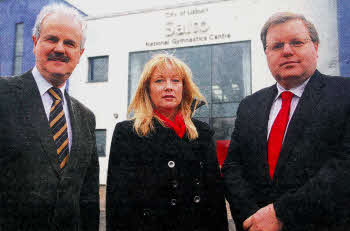 Thomas Beckett, Brenda Hale and Jonathan Craig outside Salto National Gymnastics Centre. US0512-101A
THE ORGANISERS of the Olympic Flame relay are being urged to have a re-think after it was revealed the torch will not visit Salto National Gymnastics Centre in Lisburn during its tour of the country later this year.
Salto is to play host to the highly successful Chinese gymnastics team as a pre-games training base, and local assembly members say it should have been considered as part of the torch's relay route.
Brenda Hale and Jonathan Craig have voiced their disappointment the decision was made by the London Organising Committee for the Olympic Games (LoCoG) without consulting Lisburn City Council.
Mrs. Hale raised the issue at Stormont this week and Sports Minister Carál Ní Chuilín indicated that LoCoG had a duty to consult with district councils in relation to the route the relay will take around Northern Ireland.
Mrs. Hale said: "I am extremely disappointed to learn little consultation has been sought with 'Lisburn City Council despite the issue being raised by myself at the DCAL committee several weeks ago is significant for local sport that Salto is being used as a training facility for the Chinese gymnastic team prior to the London Olympics and it is a great honour for Lisburn and the greater Lagan Valley area to be hosting a successful gymnastics squad."
Mr Craig commented: "I have confirmed with Lisburn City Council that despite consultation, LoCoG has refused to deviate from their original route in any way despite the council's effort to ensure that the short detour to Salto for a photocall was incorporated in the route.
"It is incredibly disappointing from both the Council's and my perspective that they have failed to acknowledge the work and effort Salto has done in securing the Chinese gymnastic teams coming to this facility for their pre-event training.
"We have raised this issue directly with the Minister and have assurances that she will consult with her department to ensure if at all possible, Salto is recognised by LoCoG."
The chairman of the Leisure Services Committee, Councillor Thomas Beckett said there was no consultation from the London organising committee.
He said: "The Council was given a route by them for the torch run which was to be on the June 6. In light of the most successful gymnastics team in the last Olympics making the announcement to come to Lisburn I was disappointed that there was no flexibility to change the route for a stop at Salto. Both the Council and Salto have worked hard behind the scenes trying to convince the Chinese to come to Lisburn."
Ulster Star
03/02/2012