Sarah shares her secrets on living a long and happy life
by JENNY MONROE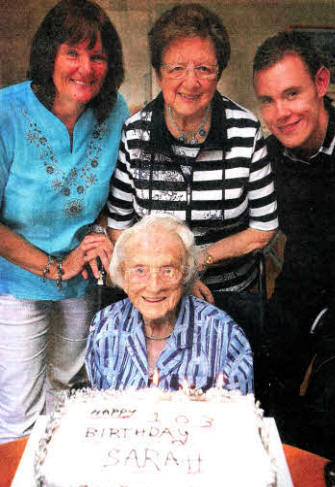 Sarah Leathem pictured with daughter Margaret Sloan, great grandson Gary and his mother Elaine Sloan celebrating her 103rd birthday at Pond Park Nursing Home. US2512-157A0
A LISBURN woman has celebrated her 103rd birthday and says the secret to living to such a grand old age is no smoking, no drinking and plenty of walking.
Sarah Leathem (nee Lavery) resides at Pond Park Care Home where she enjoys knitting, singing and playing bingo.
The former Ballymacash woman marked her special milestone with family and staff at the care home last Wednesday. After a long lie in, well deserved, Sarah was delighted when she saw her room had been decorated with balloons and flowers and a lovely cake.
Asked if she enjoyed her party Sarah,» who loves to sing, said: "My whole life's a party"
Sarah, now a widow, was married to John, a motor mechanic and they raised their daughter Margaret on the Ballynahinch Road. A great sewer, Sarah, who was a housewife for most of her life, loved making her own clothes and when she has the energy can be found knitting in her room. "Once I start to knit or sew I have to finish it," she explained.
Sarah, who says she takes no nonsense from people, said she has spent her life doing all she can to make people happy and she gave the Star readers some advice: "Don't lie - what's the point in telling lies - the truth will always come out."
Ulster Star
29/06/2012