School denies expulsion reports
by JENNY MONROE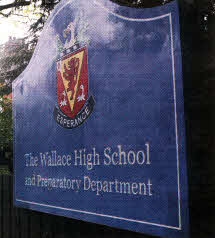 WALLACE HIGH School has categorically denied reports circulating on the internet that five pupils wire expelled following an end of term prank.
Last week some Upper Sixth form students unfurled a three-storey banner over the side of the roof of the school displaying the message `Class of 2012, F*** Yea'. Footage of this was then posted on Youtube.
This was followed by online comment about the incident with speculation that five students had been expelled for the stunt, with many claiming such discipline was excessive.
However, Vice Principal Alastair Craig said: "I can confirm that no pupils were been expelled for this incident.
"I can also confirm that the students were dealt with in accordance with school policies and procedures.
"We now consider the matter to be closed."
However, several parents contacted the Star unhappy about the way the matter had been handled.
One parent said her child was in floods of tears after being told that study leave would be commencing several days early as she still had course work to complete.
They said the situation was disgraceful'.
All of the sixth form pupils have been affected by the actions of these five pranksters and the way the school reacted" they said.
After the incident parents received an e-mail from the school confirming that study leave for Upper Sixth, which was originally planned to start on Friday 4 May, had been brought forward to 1 May.
They were also told that any student who wanted to make an appointment to see any teacher could do so by phoning the school.
Ulster Star
11/05/2012