Scott's mum calls for attacker to come forward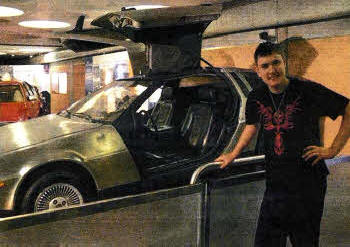 Scott Vineer
"WHOEVER did this to my son grow up and be a man."
These were the words of distraught mother Helen-Louise Vineer from Lisburn who has directly appealed to her 17-year-old son's attacker to give himself up.
Scott, still remains in a coma at the Royal Victoria Hospital three weeks after being badly beaten up and left outside the World of Furniture store at the Laganbank Road.
Helen-Louise Vineer said on the Facebook site Justice for Scott of which there are now 5,327 followers, "Whoever did this to my gorgeous boy, grow up and be a man by owning up. You are a coward by hiding and the truth will always prevail. You are not a man if you can't own up."
Last week, Lisburn police were speaking to the general public and handing out leaflets last Thursday afternoon as part of their investigation into the brutal attack on Friday September 7.
Lisburn Area Commander Chief Inspector Darrin Jones said that officers conducted scene revisits at a number of locations across the city.
17-year-old Scott, who suffers from autism, was reported missing to police at 10.12pm on Thursday, September 6 by his mother.
Mr Jones said that from speaking to friends and viewing city centre CCTV they established quite early on that Scott had left South Eastern Regional College on Thursday at 3.10pm. CCTV footage also showed that he left the college to Castle Gardens and then onto Market Square.
A witness then spotted Scott in the Beechland Drive area at 3.35pm on Thursday which was the last sighting they had of Scott before he was found beaten and unconscious at 9pm the following night. We have confirmed a sighting of Scott in the city centre/Market Square area early in the evening of Friday, September 7," he said.
"This is significant for us because it allows us to narrow down the window in which the assault on Scott took place 'from almost 30 hours to around four hours.
"However, that significant block of time remains unaccounted for so we still really need to know
where Scott was during those 30 hours so we can establish a definitive timeline for his movements and find out who he was with and where.
"With today's scene revisits we are hoping to jog the memories of anyone who may have been in those areas at the same time two weeks ago and who, without even realising it, may have information that could be important.
"Officers will be speaking to pedestrians and motorists in all of those areas and handing out leaflets with a picture of Scott and an appeal for information.
"Public information is the vital thing for us here as Scott cannot tell us what happened to him at this time. I really am urging people to take the time to search their memories and to get in touch with any detail that may come to mind no matter how insignificant it may seem."
Ulster Star
28/09/2012