Mum appeals for attackers to come clean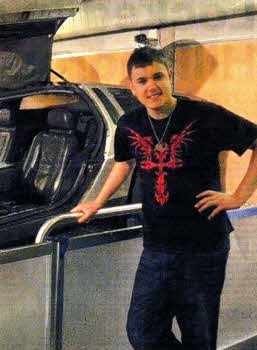 Scott Vineer.
A LISBURN mother whose son remains in a coma six weeks after he was brutally attacked and left for dead is urging his attackers to give themselves up.
She also urged anyone who may be protecting his attackers to pass on what information they have to the police.
Posting a message on the Justice for Scott Facebook age, Helen-Louise Vineer made a direct appeal for her sons attackers to do the right thing and give themselves up.
She emphasised that Scott who remains in intensive care at the Royal Victoria Hospital is not making any improvements or showing signs that he will waken up soon.
She wrote, "Doctors cannot begin to guess if or when he will come round and what lasting effect his injuries will have on him, he is unrecognizable."
The 17-year-old described by many as a 'gentle giant' and who has autism went missing on Thursday, September 6, from Lisburn College. He was found the following day at 10pm on Friday September 7 in an empty building in Lisburn, unconscious and barely breathing.
His mother wrote, "The injuries he sustained are beyond belief. He is now in Royal Victoria Hospital hi intensive care unit in a coma. "Someone did this to Scott! More than one person did this. It is not an accident they meant to do it."
She continued that his attackers left her son for dead.
They left this vulnerable, terrified young man alone with no one to help him," she said.
"He was almost dead when he was found. Someone somewhere knows who did this! If you know anything that can help please contact the police."
In a more recent post Scott's mother emphasised that her son's condition has not changed.
"He is not different to last week of the week before," she stated. "His eyes do open but they have for the last four weeks but he does not respond to any tests by the medical staff. He is not awake yet. He is still the same."
The police say that enquiries are still continuing but emphasised that there had been no significant updates and no further arrests to date.
Ulster Star
19/10/2012