Lisburn Sea Cadets make a splash for soldiers' charity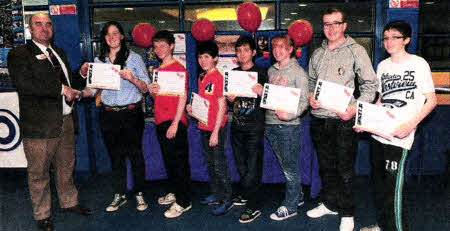 David Forsey with the Lisburn Sea Cadets
SEA Cadets from Lisburn have been joined by their colleagues from across Northern Ireland to take to the water to raise funds for the ABF - The Soldiers' Charity.
And if you are puzzled why the Sea Cadets were raising money for the Army - event organiser Petty Officer (SCC) Angi Darragh has the answer - and it's all down to the help the Army has given the Sea Cadets in winning top aquatic awards.
"Lisburn Sea Cadets started training for the initial Bronze Medallion, the flagship award of the RLSS, back in September 2011" she explained.
"The first group to complete the Bronze Medallion contained two Air Cadets from the Lisburn Squadron 817 along with the Cadets from the Lisburn Unit, and we're about to commence with our third group in the coming weeks.
"We wanted to find a way to thank Lisburn Station, the Staff for the use of the facilities and the pool at Menin Gate Leisure Centre in Lisburn and also to find a way to recognise and thank Pauline and her team for giving up their Sunday mornings freely to help us gain this worthy qualification."
Pauline Crockard the Instructional Officer Swimming at Menin Gate Swimming pool said: "I am delighted to host this event for the Northern Ireland Sea Cadets. This will be one of many events in the future. We have worked in tandem with the local cadet forces' for many years and enjoy helping out where we can."
The ABF Regional director of Fundraising NI, David Forsey was on hand to cheer the teams on and award certificates.
David said: "As a former Army Cadet myself, I rate all uniformed Cadet organisations highly. The Northern Ireland Sea Cadets have demonstrated teamwork and stamina and raised money for our serving and retired soldiers. They have done really well."
For any information on the Sea Cadets Corps, to either join as a cadet or volunteer as an adult, you can by going to the website at www.sea-cadets.org or email PO (SCC) Ani Darragh at info@tsulster.org.uk and you will be directed to who you need.
For more information on the Royal Life Saving Society (RISS) and their go online at www.Iifesavers.org.uk.
Ulster Star
27/07/2012