Nurseries celebrate sharing friendships at special picnic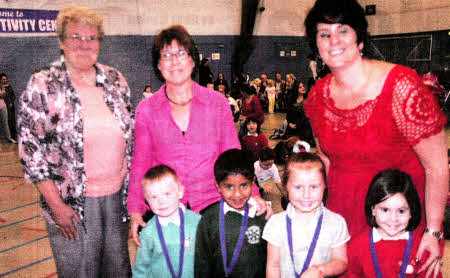 Geraldine Tigchelaar (Integrated Education Fund former Chair) with Lois Wilson of Pond Park Nursery and Clare McAllister of St Aloysius Nursery with children from both pre-schools as they celebrate the success of their cross-community activities on an IEF PACT (Promoting a Culture of Trust) scheme.
CHILDREN from two Lisburn nursery schools have been celebrating cross-community friendships with an indoor picnic and fun day.
Pond Park Nursery School and St Aloysius Nursery Unit have been working together for two years on Promoting a Culture of Trust (PACT) project, managed by the Integrated Education Fund.
The children, staff and families gathered at Glenmore Activity Centre in Hilden to celebrate the end of their year of joint activities. After playing together and enjoying a magic show the children welcomed Geraldine Tigchelaar, former Chair of the IEF and past principal of Forthill Integrated College, who awarded medals to everyone who had taken part in this year's scheme.
PACT involves schools, parents and the wider community, and many of the children from Pond Park and St Aloysius were accompanied by relatives as they enjoyed playing together with their friends for the last time before the term ends.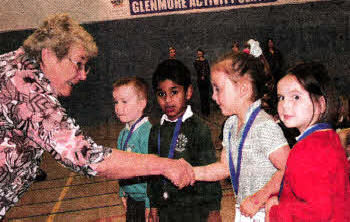 Representing the Integrated Education Fund (IEF), Geraldine Tigchelaar the former Principal of Forthill Integrated College presents medals and certificates to children from Pond Park Nursery School and St Aloysius Nursery Unit to mark the completion of their cross-community project funded by the IEF PACT (Promoting a Culture of Trust) scheme.
The two nurseries' project was called "Peas in a Pod — Time Together, Grow Together" and used storytelling, gardening, games and songs to explore and celebrate difference and unity.
Clare McAllister from St Aloysius Nursery Unit said: This project has been the perfect vehicle for very natural collaboration and shared experiences. Our children have loved every minute of planting and caring for their plants alongside all the other planned activities. A commitment and enthusiasm for this type of work by everyone involved have resulted in genuine relationships, understanding and respect."
Lois Wilson from Pond Park Nursery School added: "The name of the project stemmed from the first year of our relationship where we discovered how accepting young children are of each other — children are just like 'Peas in a Pod' and with 'Time Together' we have seen their relationships and that of the parents and staff 'Grow Together We have had a fabulous year with monthly joint activities and are grateful for the grant from the Integrated Education Fund which made it all possible."
Ulster Star
13/07/2012