Slieve Donard walkers raise over £12,000 for RVH
by LAURA HAMILL

Locals taking part in the nature trail recently at Slieve Donard to raise funds for the Royal Victoria Hospital.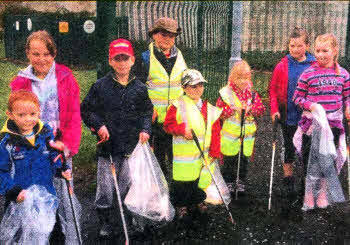 Children took part in a litter picking exercise on the mountain
MORE than 200 people took part in a fundraising walk at the weekend to reach the summit of Slieve Donard - the highest mountain in Northern Ireland.
The walk was organised by Joan Telford, Branch Manager of Mears Care in Lisburn and members of her family. The group were raising money for the Royal Victoria Hospital in Belfast and the total has so far exceeded £12,200.
The event has taken months of planning and has been supported by the Mourne Mountain Rescue Service, the Mourne Runners and the Boys Brigade Duke of Edinburgh team who guided the walkers to the summit.
For children and those unable to scale the mountain, a nature trail was organised and the children were then entertained with face painting and games.
The walkers were also litter picking on the mountain - promoting the 'Leave No Trace' campaign to keep the mountain tidy. Between them they collected 58 bags of rubbish which was then taken by the local council for disposal.
When they returned to the base of the mountain, the group were treated to a free BBQ.
People from all across the area took part, including more than 50 carers from Mears Care, friends and family, and people from local shops, churches and clubs. Bob Holt, Mears Group Chairman, even flew over from London to take part in the event.
Local businesses have also shown their support by donating prizes for a raffle which took part on the day. Stena Line donated the star prize of a ferry crossing for four people and a car to a port of their choice, and a £100 holiday voucher. Over 35 prizes were donated, boosting the total
by £2500.
Organiser Joan Telford said: "I am so pleased at how many people got involved in this event. It started off when my brother was involved in a near fatal accident at work and our family wanted to raise money for the Royal Victoria Hospital as we could see first hand that fundraising for specialist equipment could make a real difference to the services that the hospital could provide.
This event has seen the whole community come together to support our local hospital and it was such a fantastic day for everyone involved!"
Elaine McDonald, Fracture Services Manager at the RVH said: "The Belfast Health and Social
Care Trust is very appreciative' of all the efforts made by everyone involved in this fundraising activity. The proceeds raised will be used to purchase specialist equipment across a number of clinical areas within the Royal Victoria Hospital. We are delighted that Mr Taylor continues to make a good recovery."
Ulster Star
29/06/2011